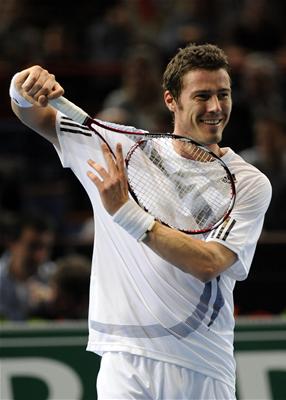 The first thing that needs to be said about Marat Safin is that 99.5 percent of human beings would love to have this enigmatic Russian's problems.
This magnetic Muscovite with movie-star looks, a body tailor-made for tennis success, and a full assortment of formidable skills won over $14 million, traveled the world, won two Major tournament titles, and basically enjoyed a journey that every tennis player not named Roger Federer or Rafael Nadal would kill for.
Safin also helped Russia win its first Davis Cup in 2002, with a decisive win against France in the final round in Paris. His Russian team made Davis Cup history by being the second to win the event after losing the doubles tie, and becoming the first team to win a five-set final match by overcoming a two-set deficit. Safin then propelled Russia to another Davis Cup crown in 2006. Safin participated in a doubles victory and then defeated Argentina's Jose Acasuso to secure a second championship in the World Cup of international tennis.

Again, this is a career that almost anyone on the planet would desperately love to have.
Why, then, is there an inescapable sense that Marat Safin's career is uniquely disappointing, all things considered?
Well, you have to start with his lean and muscular 6-4, 195-pound frame. Then you have to recall what that body produced on a September afternoon in the year 2000.
Safin's tennis was enhanced by a physical makeup that lent itself to crisp ballstriking and considerable court coverage. His height enabled him to pound his first serve and load up on a second-serve kicker. Safin's lanky profile ensured that he didn't carry around extra weight, which enabled Dinara Safina's older brother to move around the white rectangle with the smoothness that eluded another similarly talented (and underachieving) contemporary, David Nalbandian.

Let's review: Ideal tennis body. Huge serve. Full range of shots. Entirely adequate athleticism and court coverage. What could possibly go wrong?
In the 2000 U.S. Open men's singles final, the tennis world thought it had seen the emergence of the man who would take over the sport and rule it with the same imperious consistency Pete Sampras displayed in the 1990s. Thrust into his first Major final against the very same Mr. Sampras, Safin – at the tender age of 20 – played without nerves, and instead showed the freely-flowing, big-hitting form that shocked a packed house at Arthur Ashe Stadium in Flushing Meadows, N.Y.
Safin didn't just beat Sampras, he demolished the man who – at the time – owned 13 Major titles and would eventually claim No. 14 in 2002. Sampras actually didn't play poorly on that Sunday afternoon in New York's suburbs; Safin just played at another level, floating across the court and throwing down essentially perfect tennis. In less than two hours, it was all over: Safin rolled to a 6-4, 6-3, 6-3 triumph that sent shockwaves rippling through the ATP Tour. Surely, this young buck was going to collect a lot of trophies before all was said and done.

But the sure thing didn't pan out. Not nearly as much as he should have, at any rate.
Jimmy Connors won 109 tournaments in his career. Ivan Lendl won 94. Roger Federer has 62 in his pocket. Rafael Nadal, at 23, has already won 36 singles titles. John McEnroe, who left a lot of championships unclaimed in a career that could have done so much more, still grabbed 77 singles trophies.
Marat Safin, in almost 12 full years on the ATP Tour, won just 15 singles titles and snagged only two majors. The man who slaughtered Sampras couldn't dominate men's tennis in the first decade of the 21st century. That distinction went instead to Federer, who engaged Safin in one of the great matches of the Open Era.
The 2005 Australian Open semifinal between Federer and Safin was one of the most soaring and sensational confrontations in the history of the sport. For five sets, two players performing at the heights of their abilities traded every shot in the book, including a between-the-legs shot unleashed by Federer on a match point the Swiss star held in the fourth set. That circus shot didn't win that match point for Fed, however, and Safin was able to turn the tables as a result. Having survived one taste of mortality, the Russian rebounded to claim the fourth-set tiebreak and ultimately pull out a riveting 5-7, 6-4, 5-7, 7-6 (6), 9-7 triumph that electrified and enthralled a packed house at Rod Laver Arena. Federer didn't play deficient tennis on that night in Australia; Safin simply matched him stroke for stroke and edged him out in an extended fifth set, a tennis equivalent of an overtime match in international football.
Having already beaten the best player of his era, Safin then shrugged off a listless first set in the 2005 Australian Open final to take down  Lleyton Hewitt, 1-6, 6-3, 6-4, 6-4. Four and a half years after his first great triumph in New York, Safin had done something equally special Down Under. However, the dynamic display only reminded tennis aficionados: Why hadn't this kind of performance occurred more often?
Very simply, it was Marat's mind which prevented Mr. Safin from climbing greater heights in the tennis pantheon. While Federer discovered how to focus on the court, Safin – a racquet-breaking, blue-streak-cursing, attention-wandering clown in moments both endearing and embarrassing – just didn't devote himself to the art of mental preparation.
The list of his Major tournament crash-outs is considerable: Safin – yes, the same man who crushed Pete Sampras in 2000 and outplayed an in-form Federer in 2005 – could rarely replicate A-plus efforts throughout the course of a full tennis season. He never reached the finals of the French Open or Wimbledon, and in 40 Major tournament appearances, Safin reached the fourth round (not even the semis, just the fourth round) on only 16 of those occasions. That's not a misprint: Marat Safin – who, on a few rare days, played tennis as well as anyone ever has – reached the second week of a Major just 40 percent of the time. That's an astounding track record of consistency… consistent failure, that is.
In the latter stages of his career, Safin showed that he could still play well when he wanted to, as shown by his march to the 2008 Wimbledon semifinals. (Naturally, Federer was there to beat him in straight sets.) But when he lost in the first round of the 2009 U.S. Open to Austrian journeyman Jurgen Melzer, 1–6, 6–4, 6–3, 6–4, Safin's run was done at the Majors. His final match came in the 2009 Paris (Bercy) event, when Juan Martin del Potro took him down in three sets.
Yes, we should all want to have had Marat Safin's "problems." Nevertheless, this was one career in which two Major titles and 15 overall championships truly did represent a legacy of profound underachievement.
Country                                               Russia
Birth Date                                           January 27, 1980
Residence                                           Moscow
Height                                                  6 ft 4 in
Weight                                                 195 lbs.
Turned pro                                         1997 — Retired November 11, 2009
Highest Rank - Singles                    No. 1 (November 20, 2000)
Highest Rank – Doubles                 No. 71 (April 22, 2002)
Career Prize Earnings                     US $14,350,709
Grand Slam (Singles)                       2 titles
Australian Open 1 (2005)
French Open 0 (best finish: one semifinal, 2002)
Wimbledon 0 (best finish: one semifinal, 2008)
U.S. Open 1 (2000)
Grand Slam Doubles                       0 titles
Tags:
Marat Safin was a great, most enigmatic tennis player. Yes, by the standards set by others for his career, one could claim that he was an underacheiver. But Marat is exactly who HE is….and while it would appear to many that he could, and perhaps should, have won many Grand Slams in his career, be simply did not.

To follow up on my previous post, I only mean to simply express that Marat's career Grand Slam victories, as well as other titles he won, only define him as a tennis player/commodity. Further, to preface this comment, I must say that I claim no ability to read his mind, nor do I know him personally, and yet, for whatever reason, I feel virtually certain that we will never know the true reason that he "appears" to have "underachieved" based upon his most obvious incredible talent. Perhaps he felt his soul was "tormented" when he was playing professional tennis?
RSS feed for comments on this post.
Leave a comment
You must be logged in to post a comment.