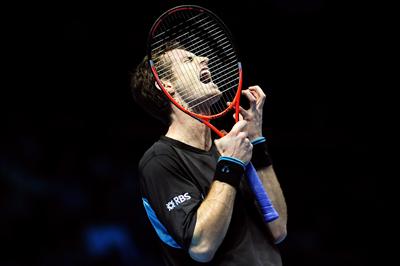 Blessed with seemingly unlimited talent and even more potential, Andy Murray can best be described as impossible to predict.  Just when Murray appears to be at the top of his game and form, things seems to fall apart.
Despite his lofty number 2 ranking, he is still a player known for his potential rather then for his accomplishments.  There remains a large performance gap between heavyweights Rafael Nadal, Roger Federer and even Juan Martin Del Potro and the nervous Scot.
Rather than embrace his talent, Murray seems to falter under the spotlight and when on center stage.  Rather than a career on the rise, the darling of the UK appears to be content losing in sub-par displays at critical points.  Such was certainly the case at all four of this year's Grand Slams when he failed to get past the semifinals in any event.  The media and his fans are anxiously tiring of shrugging off mediocre play.
In the wake of his stirring Runner-up finish in the 2008 U.S. Open, and with a big win over Federer in the ATP Shanghai Open to close out 2008, this was to be Murray's breakout year.  He entered the Australian Open as a bookmaker sweetheart only to be inexplicably scorched in the 4th round.  His work ethic has come under fire, as the redhead seems to value his privacy more than his tennis career.
Under the glitter of the two-week long Grand Slam Championships, Murray has always seemed ill at rest.  There is always mention of his devotion to his beautiful lady friend as if he is being set up to fail, which he inevitably does.
With all his tour successes, which include 14 tour Championships in his four years on tour, his Grand Slam history can best be described as dismal.  Perhaps, he will use the off-season to seek some competitive counseling and gain a smidgen of competitive fire.  While Andy has the talent, he lacks the ability to compete and to remain focused for Grand Slam events.  For Andy Murray, the time has come.  Simply, it is now or never.  There are just too many hungry players who understand what it takes to win.  Another year like this one and the endorsements will cease and Murray runs the risk of becoming just another every day player.
| | |
| --- | --- |
| Country | United Kingdom |
| Birth Date | 15-05-87 |
| Residence | Dunblane, Scotland |
| Height | 6' 3" |
| Weight | 185 lbs |
| Year Turned Pro | 2005 |
| Current Rank – Singles | 2 |
| Career Prize Earnings | $9,520,493 |
| Year-To- Date – Earnings | $4,021,067 |
| Grand Slam (Singles) | 0 |
| Australian Open | 4th round |
| French Open | QF |
| Wimbledon | SF |
| U.S. Open | Rup |
Murray in 2009
Despite a sub-par year on the Grand Slam circuit, Murray's tour year fared better.  He claimed 6 of his 14 career championships in 2009 and earned a more-than-respectable $4 million.  Murray is fast becoming the men's tour equivalent of Dinara Safina.  Championship players now view a bracket with Murray as a bracket in which they want to compete.
To go along with his career 221 – 75 won-lost record, Murray posted a robust 66-11 record in 2009.  He is just one of three players to break the 60 win barrier.
His 2009 titles include the Qatar Exxon Mobil Open, the ABN AMRO World Tennis Open, the Rogers Cup in Montreal, the AEGON Championship in England, the Sony Erickson Trophy in Miami and The Valencia Open.  There s no doubt that Andy knows how to win the weeklong tour events.
Is 2010 the year Murray will break through in a Grand Slam?  That probability rests squarely between the ears of the young star.  Show us the fire, Andy!
Tags:
No comments yet.
RSS feed for comments on this post.
Leave a comment
You must be logged in to post a comment.