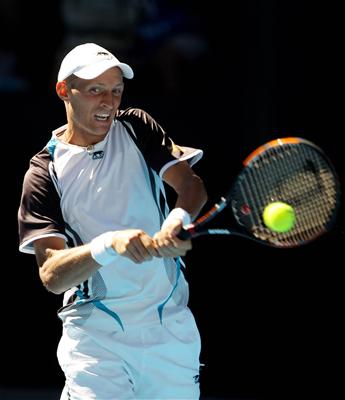 Newly ordained world number 2, Novak Djokovic will hope that form holds as he battles a field of 31 including the tour's hottest player Nikolay Davydenko in Rotterdam this week. The $1.5 million ABN AMRO World Tennis Tournament kicks off its 36th championship today.
Last year's finalists, Andy Murray and Rafa Nadal, are still licking the Melbourne wounds that dropped Nadal to number four and raised Murray to number three in the world rankings. Nikolay Davydenko is the tournament's second seed. The battling Ukranian is off to his best start with a 9-1 record this season. His lone loss was to Champion Roger Federer in Australia in a match he had an early lead before mysteriously collapsing.

In Djokovic's bracket, he appears headed to a quarterfinal pairing with 5th seeded Spaniard Tommy Robredo before a semifinal against either 4th seeded Gael Monfils or 2007 Rotterdam Champion Mikhail Youzhny.
Djokovic has a 5-1 record against Robredo, a 4-0 record against Monfils but just a 3-2 record against Youzhny. The tournament favorite appears healthy after battling stomach cramps while being upset by Joe Wilfried Tsonga in Melbourne.
If form holds, Davydenko would play American James Blake in round two, Viktor Troicki in the quarters and either 3rd seeded Robin Soderling or impressive Russian Ivan Ljubicic in the semis. Based on head-to-head matchups, there are plenty of stumbling blocks for Davydenko.

Blake has never lost to the 2nd seed. He holds an impressive 7-0 lifetime record against Davydenko. Soderling also has an edge with a 6-4 lifetime record.
Davydenko has a 2-0 edge over Troicki and a 4-4 record against Ljubicic. The lower bracket will be a stiff challenge on the hardcourt.
Djokovic holds a 3-2 advantage against Davydenko. These balanced statistics have tournament organizers and fans raring to go as the tour heads into week six.

The first ABN AMRO Tournametn was won by Dutchmen Tom Okker. Former winners include some of the game's greatest legends, including Arthur Ashe, Jimmy Connors, Bjorn Borg, Boris Becker and Stefan Edberg. It was in Rotterdam that Nadal injured his knee last year as Murray captured the crown.
Tags:
No comments yet.
RSS feed for comments on this post.
Leave a comment
You must be logged in to post a comment.