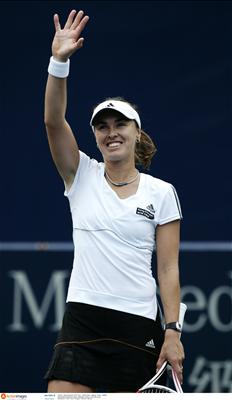 When you think of stylish Swiss tennis, you think of Roger Federer, but before the "Basel Dazzle" became the greatest Grand Slam champion in the Open Era, a Swiss Miss made her own mark on the world of Major tournament tennis.
Martina Hingis is not yet 30 years old, and yet she's in many ways a distant memory on the tennis scene. Injuries to her feet limited her mobility and brought about a retirement from the sport before her 23rd birthday. A brief comeback attempt generated three Major singles quarterfinal appearances plus lower-tier titles at Tokyo and Rome, but in November of 2007, the revelation of a positive test for cocaine (at Wimbledon earlier that year) brought about a two-year ban and a second retirement from the sport.
Hingis recently announced that she'd play World Team Tennis in 2010, but the 29-year-old has made no plans to return to the WTA Tour.
The sport is poorer for her absence.
When the Czech-born Hingis – whose first name was inspired by Martina Navratilova (Czechoslovakia was Navratilova's native land) – stood at the peak of her powers, women's tennis gained added texture and diversity.

Hingis did not possess a gracious or warm personality, as shown by numerous cutting remarks in press conferences, plus an ugly mental meltdown in the 1999 French Open final against Steffi Graf. However, her game on the court represented the picture of beauty, grace and balletic excellence.
Hingis didn't play the "big babe tennis" of fellow pros Lindsay Davenport, Graf, and the Williams Sisters, but she found a way to succeed with a distinctly different style.
Whereas Navratilova, her namesake, played ruthless attack-based tennis from a serve-and-volley posture, this Martina approached tennis from another vantage point. Hingis stayed on the baseline, but in the same breath, she didn't try to trade nuclear-grade groundstrokes with her opponents. Hingis imitated Federer in one key respect: She constantly varied the pace and angle of her shots.

On one stroke, she'd hit a high, looping topspin forehand to back her opponent into a corner. On the next stroke, she'd flatten out a backhand. She wouldn't crush the backhand, mind you, but she'd hit it straight so that the opponent – who had just been moved off the court with heavy topspin – would have a very difficult time retrieving the flatter ball on the next exchange. Her ability to hit a different kind of ball in a 20-stroke rally made Hingis so hard to play.
What made Hingis's career even more remarkable was the fact that she won three of her five Major singles titles before she was 17 years old. In 1997, barely old enough to drive a car in the United States, Hingis mopped up on the WTA Tour and would have won a calendar Grand Slam had she not absorbed a shocking loss to Iva Majoli in the 1997 French Open final.

Indeed, Hingis's best moments all came as a teenager. Because of her fitness, she regularly thrived at the season-opening Australian Open, which features the most punishing heat of any Big Four event. Hingis made a record six consecutive finals in Melbourne (from 1997-2002), largely on the basis of her conditioning. However, in the other pieces of the Grand Slam puzzle, it had become apparent in 2001 – before her 21st birthday – that her career was going to have a low ceiling.
It was in 2001 that the "big babes" referred to earlier – especially the Williamses – had begun to overwhelm Hingis with power. In the late 1990s, Venus and Serena were too young and unpolished to handle the all-court game of the Swiss Miss, but as the calendar turned into the new century (and millennium), the big hitters on the WTA Tour learned to calibrate their shots.
Hingis could always outplay opponents who lacked thunderous weapons from the baseline and on serve, but when other female tennis players developed a big serve and an equally lethal forehand, Hingis found herself in trouble. When Serena Williams dismantled her in the 2001 U.S. Open semifinals, Hingis's lack of a huge first serve made her cream-puff offerings an easy target for the woman who would become the best female tennis player of the new century.
She might have retired because of injuries in 2002, but even if she had continued to play, Hingis would have had a very hard time winning Majors. Making semifinals wouldn't have been extraordinarily difficult, but going all the way would have been hard to fathom.
A summation of the career of Martina Hingis wouldn't be complete, however, without acknowledging the doubles brilliance of a player who didn't stand tall at net. Hingis – at 5-foot-7 – didn't play serve-and-volley tennis as a singles player, so it was a testament to her giftedness that she was able to thrive so thoroughly in doubles.
Without the cannon serve, without the long reach of the Williams Sisters (who became accomplished doubles players in their own right), and without the tall frame of a Navratilova or Jana Novotna (another legendary doubles player), Hingis won nine Grand Slam doubles championships, and she did so with many different partners, including Helena Sukova, Mary Pierce, Novotna, and even Anna Kournikova.
She is the youngest Wimbledon champion of all time and the youngest No. 1 singles player of all time.
She's attained a No. 1 ranking in singles and doubles.
She's also the youngest Grand Slam doubles champion in the Open Era.
Martina Hingis might not be remembered as favorably as the Williams Sisters or Justine Henin, but in the time she played, this Swiss superstar definitely maximized the abilities and skills at her disposal. Interestingly enough, while she didn't win as many Grand Slam singles titles as her contemporaries did, her truckload of doubles championships marks her as one of the more complete multi-discipline players in her sport. Only the Williamses did more in doubles than Hingis has.
The more you think about it, the more Martina Hingis emerges as an underrated figure in the past 15 years of women's tennis.
Country Switzerland
Birth Date September 30, 1980
Residence Hurden, Switzerland
Height 5 ft 7
Weight 130 lbs.
Year Turned Pro 1994 — Retired 2002; Comeback in 2006; Retired again November 1, 2007
Highest Rank - Singles No. 1 (31 March 1997)
Highest Rank – Doubles No. 1 (8 June 1998)
Career Prize Earnings US $20,130,657
Grand Slam (Singles) 5 titles
Australian Open 3 (1997, 1998, 1999)
French Open 0 (two finals, 1997 and 1999)
Wimbledon 1 (1997)
U.S. Open 1 (1997)
Grand Slam Doubles 9 titles – 4 Australian, 2 French, 2 Wimbledon, 1 U.S.
Tags:
No comments yet.
RSS feed for comments on this post.
Leave a comment
You must be logged in to post a comment.