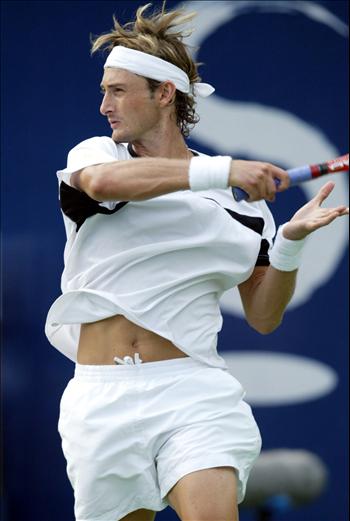 Aside of Lleyton Hewitt's upset win over Juan Martin del Potro, not much happened on Day 4 of the Wimbledon Championships. The All England Club featured some brief eruptions of action, but virtually no results that would cause a stir in the crowds who flocked to SW19. As the second round came to a close, however, there was one match that deserved an extra bit of attention, because it featured a beloved shotmaker from France and a man who once held the world's No. 1 ranking.
Spectators at Court No. 2 were some of the luckier fans on the first Thursday of the 2009 Wimbledon fortnight, because they got to see Fabrice Santoro play what would turn out to be his last singles match in suburban London. Why was this the last solo ride for the 36-year-old? Because his opponent, Juan Carlos Ferrero, also knows a thing or three about big-league ball. Ferrero regrouped after losing a first-set tiebreak to foil his French foe, 6-7 (1), 6-3, 6-4, 6-3. The win sends the Spaniard to the third round for a date with 10th-seeded Fernando Gonzalez of Chile.
First, a word about the loser of this rumble in the round of 64. Santoro-like ATP Tour comrade Marat Safin-has decided to hang up the racket at the end of 2009, so when Ferrero, not exactly a spring chicken at 29 years of age, rallied for a four-set win on a sun-drenched afternoon, a 19-year Wimbledon career came to close. "Fabulous Fabrice," dubbed by none other than Pete Sampras as "The Magician" for his ability to pull off hugely creative improvisational shots, began playing at the Big W in 1990 at age 17. Since his first-round loss in that long-ago tournament, Santoro returned to the luscious lawns outside London on 13 more occasions. Never gifted enough to be a top 15 player but almost always able to compete with distinction, Santoro-a journeyman with an extra measure of staying power- survived at Wimbledon over time. The Frenchman reached the third round or better only once at the All England Club (2001), but in the same breath, Santoro didn't lose a first-round match in nine straight trips to SW19 (1999-2007). Few professionals have squeezed more results from a small and not-too-powerful body the way Santoro has. Using guile, willpower, and a whole lot of hustle, the flair-filled Frenchie's biggest weapon was not his rare two-handed chip forehand or his crafty slice backhand, but his brain. Santoro stands as a monument to the importance of a steady head on a tennis court.

Never able to serve his way out of trouble or blast opponents off the court, Santoro has lasted for two whole decades on tour because of an uncanny ability to turn his game plans into reality. By turning thought into action and not getting traumatized by the pressure of high-stakes occasions, Santoro maintained a cheery on-court disposition, a way of being that was manifested by his supremely stylish game. Just how enduring has this man, born in 1972, been on the rectangles of this racket sport? Try this: Santoro has appeared in 68 Grand Slam singles tournaments, more than any other player in the history of the Open era (Andre Agassi is second). Every tennis player experiences a slump now and then, but The Magician-who has now played in 44 straight slam events without a single absence-has consistently been high enough in the rankings to earn an invitation back to a major championship singles draw. Santoro will finish his Grand Slam career at the U.S. Open in roughly two months, but the hallowed grounds of Wimbledon will surely miss one of tennis's most appreciated lower-tier professionals.
As mentioned earlier, there was a good reason why Santoro rode into the English sunset on Thursday. Ferrero, the 2003 French Open champion and a runner-up at that year's U.S. Open, enjoyed the top spot in the ATP rankings for a brief period of time. Yet, just as soon as he savored the view from the mountaintop, his fortunes experienced a precipitous decline. After reaching the semifinals of the 2004 Australian Open, Ferrero failed to reach another slam quarterfinal until 2007, when the Spaniard lost to Roger Federer in the round of eight. In some ways, it's a mystery why a formerly dominant clay-courter and creditable all-surface performer dropped off the radar screen in such short order, but then again, a pair of gentlemen named Federer and (later) Nadal had more than a little to do with the change in tennis royalty that emerged five years ago. Though he's found it extremely difficult to reach the second week at slams over the past five years, Ferrero's work ethic has not deteriorated. Cagey and collected on the court, Ferrero compensates for a lack of thunderous weapons with a steady style that doesn't allow his groundies to break down under pressure. Fellow pros might beat him with power and skill, but Ferrero won't donate matches to anyone he plays, and that trait was in evidence against The Magician.
Safin-eliminated from his own final Wimbledon on Tuesday-lost seven of nine career matches against Santoro. The talented but mentally fragile Russian once famously remarked that "Being told I would play Santoro was being told I was to die." When Santoro then snatched the first set from Ferrero's grasp, the Fabrice Fan Club held out hope that the Spaniard-human like everyone else-would get frustrated and let down his guard as the match continued.
That didn't happen.
A steely and strong-willed second set from Ferrero leveled the match, but more importantly, it robbed Santoro of any forward-moving momentum. Without histrionics or fanfare, Ferrero smartly and calmly proceeded to deconstruct Santoro's game for two more sets, and after 2 hours and 41 minutes of artful tennis, the 29-year-old-once called "The Mosquito" for his pesky, scrambling style-had bitten his 36-year-old adversary.
Yes, there will be many matches far more consequential than the one Juan Carlos Ferrero and Fabrice Santoro staged on the fourth day of Wimbledon. Yet, on a relatively quiet afternoon for the crown jewel of tennis, it was worth stepping back and admiring two tennis lifers, who showed what a couple veterans can produce on the white-lined rectangle they know so well.
Tags:
No comments yet.
RSS feed for comments on this post.
Leave a comment
You must be logged in to post a comment.