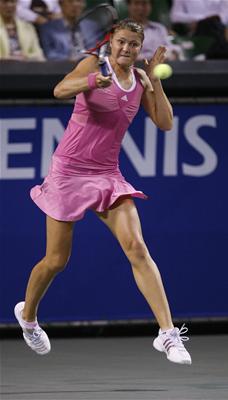 For a family to produce a single world class athlete is a rarity, but for a family to produce two is against all the odds. But it happened to the parents of Marat Safin and Dinard Safina. A Brother and Sister combination from Russian that has added controversy to the tennis scene. Marat the elder and winner of two Grand Slam events is the most misunderstood player on the ATP tour, while his kid sister, who has never played up to her potential in previous years, has had a dream season in 2008.
Safina is ranked much higher than her big brother at the moment, and I've no doubt she earned considerably more prize than he did in 2008. She played in 5 consecutive finals in seven tournaments leading up to the US Open, where she virtually collapsed from exhaustion in her match against Serena.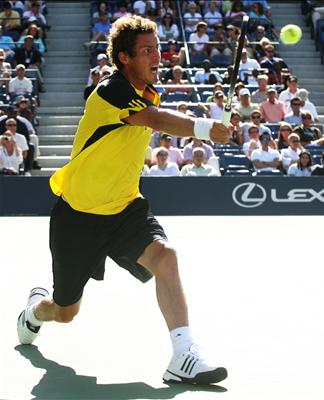 Marat a naturally gifted player who plays as effortlessly as any player in history, has suffered from a series of nagging injuries throughout his career. He made it all the way to the top, but did not remain as number 1 for more than a few months. On court he tries hard to keep his feelings in check but many times his frustrations boil over and he slams yet another racket into the ground. Marat is a big guy, not built like the conventional tennis player, and he puts a lot of stress on his legs, ankles and knee joints. As he is quoted as saying, "I'm forever making a come back, right now I'm on my fifth."
Safina is also an emotional player who wears her young heart on her sleeve. She is often guilty of screaming at herself after a poor shot and has been on the verge of tears a few times. She confesses that she acted like a spoilt child in her match against Serena, and is embarrassed by her outbursts. "I'll learn from the experience", she says, "I have to if I want to be number 1." At 22 years of age Safina may have the most potential of any of the 'new' girls on the tour. Much like her brother her talent comes naturally, and she often surprises herself with some of the shots she makes. She has all the attributes to be number 1, she's tall, a good server, she's quick around the court, and she has determination.
Both Brother and Sister are expecting to play in Melbourne at the Australian Open 2009, where Marat won one of his 2 Grand Slam Titles. Safina who won the Silver medal in Beijing says she's eager to match Marat's achievements by winning her first major tournament. Maybe Australia will be the place for her to come of age.
Marat recently pulled out of the Russian Davis Cup team that's on its way to play Argentina, so he could participate in the Thailand Open in Bangkok. He needs ranking points to improve his position in the Australian Open draw.
Tags:
No comments yet.
RSS feed for comments on this post.
Leave a comment
You must be logged in to post a comment.