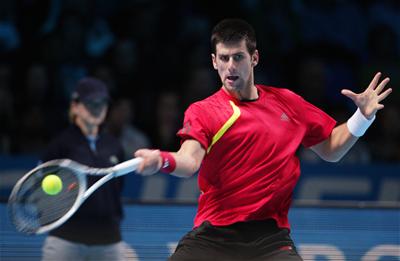 Serbian superstar and national icon, Novak Djokovic, maintained his number four ranking at a time when he seemed poised to make a run at the top.  Known as a moody player who sometimes lacks the will to overcome minor setbacks, Novak continued to struggle in his Grand Slam appearances while prospering in his regularly scheduled tour events.
Ever since his stirring upset win in the 2008 Australian Open and teamed with county mate Ana Ivanovic's success in the same tourney, Serbian tennis has been on the rise.  The 2009 Grand Slam presented surprising roadblocks and some lackluster efforts for the lanky power player.  With nothing more than one semi-final appearance at the U.S. Open, it seemed Djokovic was overrated and in jeopardy of losing his lofty ranking to more aggressive players like Juan Martin Del Potro and Andy Roddick.
There is no question that Novak prefers the shorter tour events where there is a bit less scrutiny and a lot less media coverage.  Toward the end of the season, Djokovic attempted to reverse his downward Grand Slam spike by teaming up with new coach, American Todd Martin.  A fiery competitor in his own right, Martin may be just the cure for the sometimes-listless Djokovic.
An easy-going temperament has seen Novak unwilling to play through minor injuries and halt play in matches rather than attempt comebacks.  Other tour players no longer fear Djokovic's big serve and solid strokes.  His questionable commitment makes his fair prey.
| | |
| --- | --- |
| Country | Serbia |
| Birth Date | 22-05-87 |
| Residence | Belgrade, Serbia |
| Height | 6' 2" |
| Weight | 176 lbs |
| Year Turned Pro | 2003 |
| Current Rank – Singles | 4 |
| Career Prize Earnings | $14, 999,098 |
| Year-To- Date – Earnings | $4,491,471 |
| Grand Slam (Singles) | 1 |
| Australian Open | 2008 Champion |
| French Open | SF |
| Wimbledon | QF |
| U.S. Open | RUP 2007 |
Djokovic in 2009
Despite his woes in Grand Slam events, Novak put together more tour wins than any other competitor in 2009.  His 76-18 match play record and 5 tour titles kept him in the top four rankings-wise.
The 22 year old won the Dubai Open, the Serbia Open, the China Open, the Davidoff Swiss Open and the BNP Paribas Masters in Paris.  Along with his five wins, Novak remarkably lost in seven other tour finals.  Truly, this is an amazing accomplishment that does leave fans shaking their heads wondering about what happens in the bigger venues.
During the year, Djokovic posted 496 aces, landed 63% of his first serves, won 73% of his first serve points, saved a commendable 67% of break points against and won 85% of his service games.  These are strong numbers by anyone's calculations.
Since retaining Martin, Djokovic went on a tear in the fall, winning three events.  His early departure at the London season finale was a bit disappointing but will his overall tour performance has solidified his ranking.  Novak should be entering the upcoming season with confidence.
Armed with a new coach and a deeper fitness regimen than last year, perhaps the Serb will put the off-season to work and show his legions of fans the fiery drive they have been waiting to see.  The tennis world awaits the arrival of the real Novak Djokovic.
Tags:
No comments yet.
RSS feed for comments on this post.
Leave a comment
You must be logged in to post a comment.