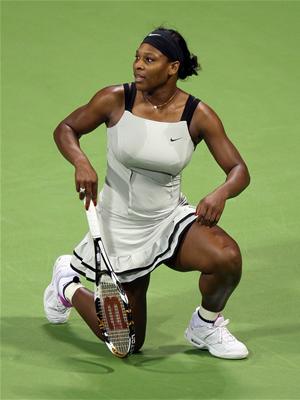 The best eight women tennis players are in Dohar competing for the Sony Ericsson season ending championship, and a share of the $4.45 million prize money. The eight are split into two groups of four players each, referred to as the White and Maroon groups. I wonder why Maroon was chosen? The white group consists of Jelena Jankovic, Ana Ivanovic, Svetlana Kuzvetsova, and Vera Zvonoreva. The Maroon group comprises Serena Williams, Dinard Safina, Elena Dementieva and Venus Williams. The format of the tournament is for a first round round robin against the players within each group, the two winners will move on to a semi final and then to a final. It is possible for the two Americans to meet in the final, to do so they would have to play against each other twice, and the final would be their third meeting in a major event. Serena said that they were getting used to playing one another, and when they are both entered in the same event a confrontation is inevitable, but having to play my sister twice in 4 days is a bit much. The understatement of the year in my book, and it goes without saying that Venus faces the same prospect.
Between them they won 2 of the four Grand Slam events in Australian open 2008, the others were won by Maria Sharapova in Australian open and Ana Ivanovic in France. All eight players are familiar with the styles and techniques of their opponents, most have played against the other players many many times, and a first round loss makes it very difficult to get back into contention. Day one saw Venus beating Safina 7-5, 6-3, which means that for Dinard Safina to reach the next stage she must win both her matches against fellow Russian Elena Dementieva and Serena Williams.
A tough task, but not impossible. In a first day match between Jelena Jankovic and Ana Ivanovic, it was Jelena who turned the tables on her fellow Serbian after losing 5 out of 6 of their previous meetings, by beating Ana 6-3, 6-4. Miss Ivanavic complained of the humidity, the wind and the slowness of the court, said she felt dizzy and was dehydrated. She does seem to whine a lot when she loses, but then I suppose it was only humid on her end of the court! In the other day one match, Zvonoreva beat Kuzvetsova 6-2, 6-3. In the matches scheduled for today Safina takes on Serena, a replay of the US Open final, and a loss by Safina would mean her elimination, Venus plays Dementieva, a win for Venus would ensure that she would move on to the semi final. In the other match Ivanovic will play Zvonoreva, a must win situation for Ana. Whether she wins or loses Jelena will remain as the number 1 ranked player at year's end, but if she loses to either of the Williams sisters it will undermine her confidence as she goes into 2009 and the Australian Open in January.
Tags:
No comments yet.
RSS feed for comments on this post.
Leave a comment
You must be logged in to post a comment.