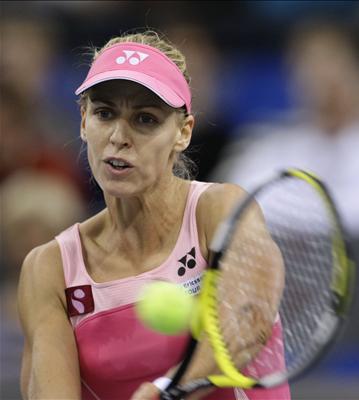 Every armchair critic must have said it a million times over the past couple of years as they have watched Elena's career unfold, "Please learn how to serve! For a lady with such great court skills and a devastating forehand, it seems impossible for her to be such a lousy server!" In 2008 she finally came through, eliminated the endless number double faults, used her strength and height and served a few aces. The armchair critics were vilified, she won the Gold Medal in Beijing, she reached the semi finals at both Wimbledon and the US Open, won in Dubai and Istanbul, and established herself as a permanent fixture in the top ten. Currently ranked at Number 5 she has recently won her berth in the 2008 season ending Sony Ericsson WTA Final to be held in Doha, Qatar in November. She joins Serena Williams, Ana Ivanovic, Jelena Jankovic and Dinara Safina in the tournament for the best 8 female players in the world. The other three leading point getters for this prestigious tournament are Maria Sharapova, who will not be playing, Venus Williams and Svetlana Kuznetsova. Who will qualify to take Sharapova's place has yet to be decided. Lena as she is known to her friends was born in October 1981 and will celebrate her 27th. Birthday next month. To date her career earnings are right around the $10 million mark, and 2008 was by far her most consistent year. She has emerged as a confident player on and off the tennis court, and enjoys meeting the press, being interviewed and commenting about her own game and that of her competitors. Her boy friend is Russian NHL player Maxim Afinogenov who has signed a contract with the Buffalo Sabres. She owns a home in Boca Raton Florida, and she will most likely be making lots of trips between Boca and Buffalo in the future.
In 2004 Elena won a Silver medal at the Olympic games in Sydney, and she admitted recently that when she entered the 2008 games she had no thoughts of repeating her past performance let alone beating it and winning gold. "It was my greatest achievement as an athlete and as a tennis player, and I have never felt so proud of myself and my country," she stated. When she earned her way into the Ericsson tournament she said, "One of my goals has always to get as close as possible to the top, making it to Doha shows me I've been doing a few things right this season."
Coached by her Mother Vera, the two of them travel the world together enjoying the cultures of the countries they visit, and a lifestyle so different from the one she knew as a child in Moscow. Her first coach Ravza Islanova, Elana was about 10 at this time, is the mother of Marat Safin and Dinara Safina. In some ways they are all a part of one happy family of talented Russian players who between them made a grand sweep of the tennis medals in Beijing, but on court in the 2009 Australian Open all the family ties and friendships will be out the window.
Tags:
No comments yet.
RSS feed for comments on this post.
Leave a comment
You must be logged in to post a comment.