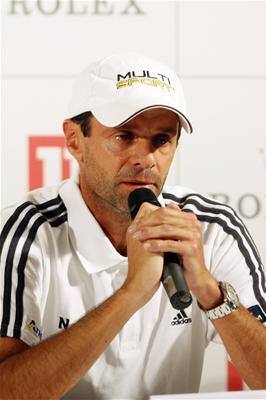 Tennis coach Carlos Rodriguez, an interesting and intelligent man, who took Justine Henin out of the juniors and brought her tennis fame has recently opened a branch of their 6th. Sense Tennis Academy at the Mission Inn Resort and Club at Howey-in-the-Hills, Florida. Both Carlos and Justine see an opportunity in the US to provide a training centre for juniors with good potential whose parents are seeking professional coaching from someone with a proven track record. Carlos says that, "Justine retired from the tour to prove to herself that she could do something other than hit a tennis ball. But what she left behind after her best year in 2007, was a tour with just three legitimate Hall of Fame players in the persons of the Williams sisters and Maria Sharapova, and a bunch of developing players who really couldn't hold Justine's old worn out pair of socks!" He went on to say, "outside of the Sisters and Maria the rest are still poor."
"It is a sad reflection on the quality of the players, when a player who has yet to win a Major tournament can be elevated to the position of Number 1 in the world." Carlos was referring to the rise of Jelena Jankovic, who with her recent win in Asia entered the Kremlin Cup in Moscow ranked as the number one player. As Carlos was quick to point out Jelena's record against Justine was 0-9.
He insists that Serena has the potential to dominate the ladies tour for another two or three years if she takes care of herself, but he also points out that the evidence does not support her commitment to that aim. The only other player who has the qualities to maintain any form of continuity is Sharapova. "She has to make the commitment to be the best," Carlos says, "she needs to look into the mirror and tell herself that in order to be number one she must give up her distractions. She needs to concentrate, to practise diligently and to live for tennis. No more endorsements, no more publicity or wasting time outside the court, if she has the desire she could be number one for years to come."
Carlos was reluctant to discuss the plight of Ana Ivanovic who since winning the French Open has had a record or 5-5, and has obviously been struggling with her tennis game and the publicity that surrounds her. "Ana can do big things, but she needs maturity," Carlos commented, "she has the best coach in the game today, and if she listens to him, her future looks bright. Her problem is that she has no plan B or C to rely upon if plan A is not working. When this happens she simply loses complete control."
He had little good to say about any of the new crop of players, to Carlos there was nobody outstanding on the horizon. When he was quizzed about the possibility of Justine returning, he grinned and replied, "It's up to her not me!"
Tags:
No comments yet.
RSS feed for comments on this post.
Leave a comment
You must be logged in to post a comment.