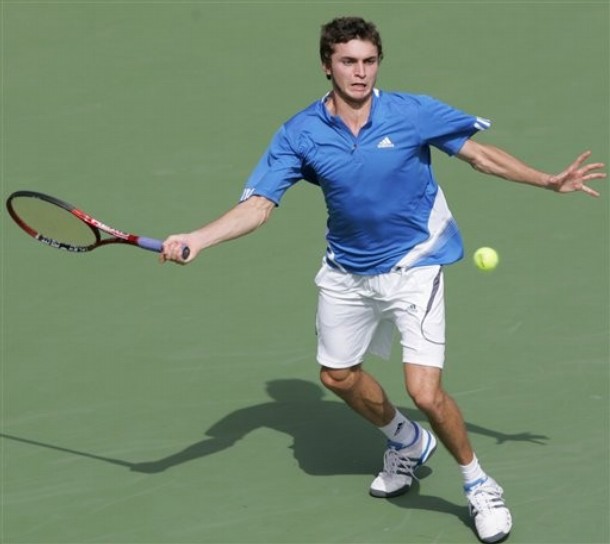 For one player in particular the news that Rafael Nadal had pulled out of the Masters Cup was music to his ears. Gilles Simon will be the second Frenchman to be included in the top elite players who will compete for the season-ending Cup in China. As the ninth ranked player, and the player who was mathematically eliminated from the top 8 by his countryman's win in Paris, Giles Simon was the first alternate player for the Shanghai event. When he heard officially about his inclusion he tried not to show his pleasure and said he felt compassion for Nadal. Simon knows first hand how tough the ATP can be. The trip to China will be his 29th. event of the Australian open 2008 season, that's a lot of tennis for any player, but Giles decided to 'go for it all' in 2008 to prove to himself that he had what it takes to be a top 10 player. At one stretch toward the end of August he played 9 matches in 11 days while competing in Indianapolis and Toronto, his winning streak included wins over such players as Roger Federer, Tommy Haas, Dimitry Tursunov, and Marin Cilic before he finally lost from exhaustion to Nicholas Keiffer. He went on to win in Roumania against Carlos Moyer 6-3, 6-4 for his 3rd. title of the year and his 5th. of his career, then proceeded to Madrid for the Madrid Masters. He reached the final, losing to Andy Murray 4-6,6-7 after upsetting home town favourite Nadal 3-6, 7-5, 7-6.
Simon is 5'11", for some unknown reason he carries the nickname of 'poussin' which translated means small, but he is not yet strong. He is very quick on his feet, has a world class backhand down-the-line stroke that gets him lots of points, and more than any other quality it is his determination that seems to carry him through 5 set matches and survival of break points. He plays every point in much the same way that Nadal plays them, each one is almost a matter of life or death and equally important. Being drawn against him is something even the best players have come to fear, and while this may not be intimidation it does show the respect that this young Frenchman has gained during the year.
He will join Jo Wilfried Tsonga in China, and it must be the first time in recent memory that France has two players in the line-up, and is the only country with two players competing. Because of the withdrawal of Nadal, Federer will be the highest ranked player, but will he necessarily be considered to be the favourite? Andy Murray has been on a hot streak of late, and much of the 'smart' money is betting on him to finish the season with another victory. If Roger's back holds up, my money is on him! May the best man win!
Tags:
No comments yet.
RSS feed for comments on this post.
Leave a comment
You must be logged in to post a comment.