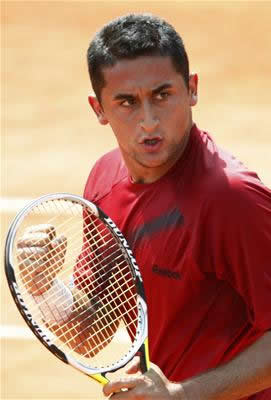 Much of the drama in the first week of a Grand Slam event concerns the middle-tier players fighting for added respect, bigger paychecks, and the momentum that can re-invigorate a career. In light of these tensions unique to the world of major championship tennis, it can be said that on Wednesday at Roland Garros, Nicolas Almagro's stature gained a small but meaningful amount of stature, while Ernests Gulbis continued a sad and mystifying journey to the nether regions of his sport.
In a second-round match involving two of the ATP Tour's more enigmatic figures, Almagro showed more staying power in a fully deserved four-set triumph over Gulbis. A 6-7 (4), 7-6 (5), 6-3, 6-2 victory sends the 31st-seeded Spaniard into the third round, while Gulbis-his ranking sinking like a rock-will leave Paris in a state of crisis.
Before addressing the meaning of Almagro's win, the more immediate story of this match is the weight of impact it will have on Gulbis's ranking, not to mention the career of the 20-year-old Latvian. Gulbis reached the quarterfinals of last year's French Open-by far his best Grand Slam result-so a second-round departure will generate a substantial forfeiture of points on June 8, when a new batch of ATP Tour rankings will take effect. Last year-under the previously existing point allocation formula-a quarterfinal showing in a slam tournament produced 500 points. (This year, it's 360, but 2009 slam results will be measured against 2008 results when points are added or subtracted.) Therefore, Gulbis will lose 455 points with this exit in the round of 64. That's not good news for a man who, on his best days, can bludgeon the ball and make gifted opponents look lost and helpless on the court. For whatever reason, the considerable talents of this 20-year-old have not been able to ripen as Gulbis's teenage years have receded into the past. A body is getting older, but a mind is not getting wiser in the heat of big-match pressure. Ernests Gulbis has so much to offer the tennis community-not to mention himself-but this early loss will only make it that much more difficult for the Latvian to receive decent draws at Grand Slam events.

One man's disappointment, however, is another man's joy, and for Almagro, this gut-check victory couldn't have been much sweeter.
At last year's French Open, the one nicknamed "Nico"-like Gulbis-reached the men's singles quarterfinals, but after getting humiliated by Rafael Nadal in three painfully bad 6-1 sets, the only thing Almagro heard about was his lack of guts. Forget the fact that the 23-year-old produced the best slam result of his career; the ugly nature of the triple-breadstick loss to Nadal, his more celebrated countryman, wiped away a lot of the positive publicity created by his four match wins at Roland Garros. As he returned to Paris for another go-round on red clay, Almagro needed to show that he could compete and prevail against credible opposition.
This win over Gulbis-no matter how troubled the Latvian might be at the moment-represents the very kind of scalp Almagro was looking for. In search of a way to write a new and encouraging chapter in a career that hasn't quite taken off, Nico Almagro might have found the push his tennis journey so desperately needed. With a few more wins at this year's French Open, a man with ample energy left in his young legs can still make a run at an upper-tier ranking on the ATP Tour.
Tags:
No comments yet.
RSS feed for comments on this post.
Leave a comment
You must be logged in to post a comment.