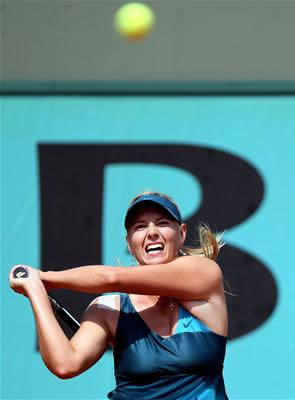 After ten months away from the WTA Tour, Maria Sharapova might be in the midst of re-learning the finer points of tennis technique, but while her groundstrokes still need polishing, there's one thing the Russian superstar never forgot how to do: fight like hell.
Displaying the mental toughness and combative spirit that made her a three-time Grand Slam champion, Sharapova upset 11th-seeded compatriot Nadia Petrova in the second round of the French Open before an enthralled crowd on Court Suzanne Lenglen. On most days, Sharapova would rate as a clear favorite over Petrova, but in light of her extended absence from competitive tennis, the former world No. 1-now ranked 102nd-had to view her 6-2, 1-6, 8-6 victory as something of a surprise.
The tension in Petrova's play, combined with Sharapova's rust, produced a match that actually acquired a generally high level of ballstriking, but precious little consistency from either end. Points were played quickly, and momentum shifted endlessly, as the two Russians took very little time between serves, seemingly racing through their afternoon in order to avoid thinking too much on the court. The results seemed to justify the approach both players brought to this battle (both women finished with more winners than unforced errors), but it also meant that leverage was fleeting in the round-of-64 showdown. When crunch time came calling on the terre battue of France, the battle of nerves in this see-saw affair would be won by the player so thoroughly accustomed to using her mind as a weapon. Just like old times, it was Sharapova-not Petrova-who once again found a small but crucial measure of composure in the defining moments of a Grand Slam duel.




After the two Russians traded haymakers in two lightning-quick sets, the third and deciding stanza turned into a desperate and sometimes dazzling fight for survival. Petrova was on the ropes when serving at 1-2 and deuce, but a clutch topspin forehand helped her get out of trouble and hold for 2-all. Petrova sustained the momentum from that hold in the next two and a half games to build a 4-2 lead and gain a 15-40 opportunity on Sharapova's serve. The Court Lenglen crowd sensed that a "mini-match point" was at hand. Sharapova had to escape a double-break ditch if this entertaining but uneven match was to continue well into the afternoon.
It was at this moment that Sharapova found the sterner stuff of a champion, while Petrova-briefly, but tellingly-lost the plot.





Sharapova used an ace to get to 30-40, but Petrova still had another break point chance. On a standard-issue second serve-a ball that shouldn't just be returned, but crushed-Petrova picked the wrong time to spray a sloppy return wide of the right sideline. Sharapova-as all great players do-seized on her opponent's moment of frailty by pounding her first serve down the middle "T" to hold for 3-4. Petrova still had the break lead, but the more accomplished player on the court had found a way to flip the flow of momentum, and sure enough, a shaken Petrova lost her serve when she toed the line after the changeover. At 4-all, 30-all, Sharapova-newly emboldened by her comeback-was able to hit another ace down the T, part of a third set in which the former world No. 1 smacked 6 aces and converted 70 percent of her first serves.
As the third set wound its way into the equivalent of overtime (there are no tiebreaks in the final set at the French Open), both players had steadied themselves on serve, but it was Sharapova who had to feel more comfortable about her position. By serving first in the third set, Sharapova had her nose in front in the final games of the match, while Petrova was constantly forced to serve just to stay alive.
At 7-6 in the third, Petrova's resistance crumbled. The 11th seed double-faulted at 30-all and then jerked a backhand wide on match point, as Sharapova-amazed at her good fortune and elated at her ability to compete-beamed with the glow of a woman who realized that she still knows how to pull tough matches out of the fire. Petrova wrote another sad chapter in her tennis history, but Sharapova reminded tennis watchers just how much she cares about the sport. Because of her persistence, the three-time slam champion will now be able to spend at least two more delightful days in the world's most romantic city. It is a love affair with tennis that has been consummated this week for one Maria Sharapova.
Tags:
No comments yet.
RSS feed for comments on this post.
Leave a comment
You must be logged in to post a comment.