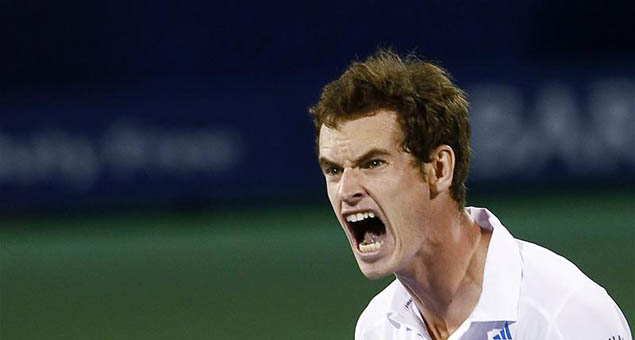 What a mess! The fans at the Barclays Dubai Tennis Championship are witnessing the unpredictable nature of men's tennis. On Wednesday, a trio of stunning upsets continued to highlight the need for top players to stay in top form. When the game's elite fail to get in playing shape and stay there, they are very vulnerable. And, there are plenty of wolves lingering in the Dubai weeds to stake their claims to trophies and riches.
So learned, third seed Andy Murray – again, 4th seed Nikolay Davydenko and 5th seed Jo Willfried Tsonga as all three succumbed in the second round. Of the top seeds, only Marin Cilic (6th) and Novak Djokovic (2) remain.
Murray continues to frustrate his avid fans, many of who question his commitment to the game. The world's number three looked very fragile in the first round and did not improve in the second round. He has ever emerged from the quarters in this event. This year, he is spared the opportunity to fail at that level.
Serbia's Janko Tipsarevic made a name for himself against the over-rated Murray, who has not played nor practiced very much since succumbing against Federer in the Finals at the Australian Open. In the evening session, Tipsarevic drew strength from a bevy of second round upsets to overcome the 3 seed in a stirring 7-6 (3), 4-6, 6-4 two hour thirty minute upset. The bespectacled Serb had 13 aces and was able to convert of 12 break point opportunities against the moody Scot.
Tipsarevic will next entertain hot playing Russian Mikhail Youhzny who overcame German qualifier Bjorn Phau 7-6 (2), 6-4. Youhzhny, who played well in Rotterdam last week, is on a bit of a roll and is certainly one of the dangerous lions lurking in the Dubai bush.
4th seed and hard playing Russian Nikolay Davydenko was forced to retire in his match with Michaela Berrer. Davydenko is troubled with a left wrist injury and after losing the first set 6-3 in 46 minutes was unable to continue.
5th seed Frenchman Jo Willfried Tsonga was simply no match for the hard serving and fast improving Ivan Ljubicic. The Croatian fired 15 aces and lost just four points on his first serve to put aside Jo Willy 7-5, 6-3. Ljubicic never faced a break point and seems finely tuned for his quarterfinal pairing with defending champ Novak Djokovic.
Cypriot Marcos Baghdatis recovered from his stomach illness in the first round and dispensed of Indian upstart Somdev Devvarman 6-3, 6-1 in one hour forty-five minutes. Baghdatis meets Berrer in the quarters.
Favorites Djokovic and Cilic advanced after tough tussles. Cilic downed Stefan Koubek 6-2, 7-6 (5) and Djokovic overcame a strong three set challenge from countryman Viktor Troicki 3-6, 6-4, 6-2. Cilic will meet Jurgen Melzer who defeated Federer fill-in Tommy Robredo. What will happen next in the $2 million Barclays Dubai Tennis Championship? At this point, anything goes as there appears no clear favorite to claim the $383,000 first prize.
Related Posts

Tags:
No comments yet.
RSS feed for comments on this post.
Leave a comment
You must be logged in to post a comment.