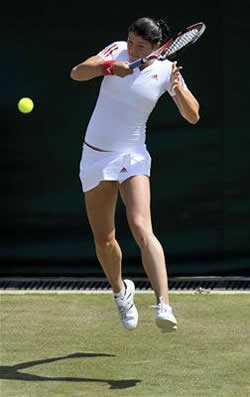 It is difficult to remember a major tennis tournament where the number one seed has been such a prohibitive underdog. At one point, Serena Williams begrudgingly agreed that Dinara Safina should be the number one seed. Ever since, the world's top ranked player has been setting herself up for a fall at Wimbledon.
As the top seed at Melbourne and the top seed in Paris, the hard working, always the bridesmaid never the bride Russian did what she does best. She reached the finals and then put forth a nervous, painful-to-watch effort that resulted in humiliating defeats. The 23-year old devastates opponents en-route to the finals and then take on the appearance of a deer in the headlights before embarrassingly collapsing in despair.
All the aggression and combativeness that carried the husky sister of Marat Safina to the finals disappears. The ferocious bulldog becomes a camera shy pussycat looking for a place to hide.
After complaining about the grass at Wimbledon, declaring it her most unpopular surface, Safina went out on Thursday and did what she does best. She defeated unseeded Paraguayan Rossana De Los Rios in an early morning match 6-3,7-5.
The pundits and experts remain unimpressed.
When considering likely champions at Wimbledon, the number one seed's name barely comes to mind. Four names that do come to mind for fans and bookmakers alike are 8th seed Victoria Azarenka, 5th seed Svetlana Kuznetsova, 2nd seed Serena Williams and 3rd seed and five-time Wimbledon Champion Venus Williams. All four are comfortable with the grass and considered to be in top form. The bookmakers are getting plenty of action on all four players.

The weakest quarter in the draw is considered the top bracket of the lower half where 7th seed Vera Zvonareva and her Russian counterpart 4th seeded Elena Dementieva reside. Dementieva may be seeded higher but Zvonareva, a 6-3, 6-1 winner over Mathilde Johansson on Thursday, is playing better.
Neither possible semifinalist is given much of a chance against either Azarenka, a 6-0, 6-0 second round winner against Ioano Raluca Olanu, or oft time Grand Slam winner Serena Williams. The more Victoria is on the court, the better she looks. We like her chances although Queen Serena is always game.
Against Safina, Kuznetsova should prevail. Svetlana's quick dismissal of Dinara in Paris marked her return to top form and the winner's circle at a Grand Slam. She's powerful, aggressive and playing with great confidence.
Venus has her eye on that sixth title. What a credit it would be to an already astonishing resume. A Champion's champion, Venus looks right at home on the Wimbledon courts. On Thursday, Venus breezed past the experienced Kateryna Bondarenko 6-3, 6-2.
This year, we give the edge to youth. Look for Svetlana and Victoria to meet in the finals. Then, cheer for the 2009 Wimbledon Champion Victoria Azarenka, a rising and shining star. The deeper these two get into the draw, the stronger they will look. What a finals we shall see!
Tags:
No comments yet.
RSS feed for comments on this post.
Leave a comment
You must be logged in to post a comment.