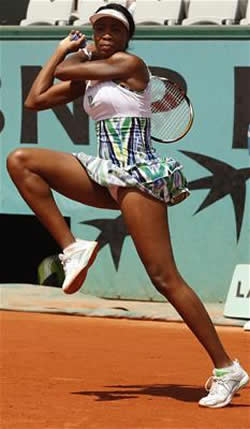 For women with a last name of Williams, the official release of the Wimbledon singles draws on Friday morning provided a pleasing path to tennis riches. After years of being placed on the same side of the draw, Venus and Serena stand on opposite sides of the bracket at the Big W. If you loved last year's all-Williams final, prepare to expect a sequel this time around.
LADIES' SINGLES DRAW: ANALYSIS & PREDICTIONS
Top Quarter
Top-seeded Dinara Safina will have a challenge in the early rounds of Wimbledon, but that challenge shouldn't come from opponents. The key for the No. 1-ranked Russian will be her ability to erase the memory of her meltdown in the French Open final against Svetlana Kuznetsova. Safina has showed increased toughness over the past 13 months of her career, fighting into the latter rounds at tournaments big and small while developing the consistency of an elite competitor. Grand Slam finals (three losses in as many attempts) are clearly Safina's personal waterloo, but pounding her way into the quarterfinals should not be too much of a challenge… not if this increasingly steady pro has her head on straight. Some will say that Agnes Szavay should pick off Safina in the third round; others will find Amelie Mauresmo a sexy upset pick in the fourth round; the smart money says that Safina is no longer the erratic player she was in the past. She's the best player in this portion of the draw, and should be expected to advance to the semifinals. Safina's potential quarterfinal opponent would likely emerge from a fourth-round throwdown between Kuznetsova and rising Danish teenager Caroline Wozniacki. The two women collided in the quarterfinals of the Sony Ericsson Open a few months ago on hardcourt, with Wozniacki winning in three contentious sets. Expect a similarly fierce battle this time around, with the same result.
Predicted Quarterfinal Matchup: Safina v. Wozniacki. Semifinalist: Safina.
Second Quarter
The other side of the top half of the draw is a primrose lane of sorts for Venus Ebony Star Williams, the five-time Wimbledon champion who has claimed the past two Venus Rosewater Dishes at SW19. Venus's foremost competition in her quarter will probably come from 18th-seeded Samantha Stosur of Australia in the fourth round. Stosur should be favored to advance past No. 13 Ana Ivanovic in an intriguing third-round match.
In the other section of this quarter lies sixth-seeded Jelena Jankovic, who has struggled throughout 2009 and has not been able to make the quarterfinals of the year's first two slam events in Australia and France. On grass-her weakest surface-Jankovic wouldn't stand much of a chance against Venus, whose game is perfectly suited for suburban London's lawns. Then again, Jankovic isn't even likely to get that far.
Predicted Quarterfinal Matchup: Venus v. Na Li. Semifinalist: Venus.
Third Quarter
You could pick a name from a hat at random, and very possibly come up with the two quarterfinalists in this portion of the women's field. The two highest seeds in this quarter-seventh-rated Vera Zvonareva (coming off an extended layoff due to an injury) and fourth-seeded Elena Dementieva (extremely inconsistent ever since a semifinal showing in Australia)-are unlikely to be anything close to their best over the coming fortnight. This is a chance for a floater to make some noise, and just a few weeks after doing as much in Paris, Dominika Cibulkova-who punched her first ticket to a slam semifinal at the French Open by cruising through a depleted field-seems primed to pull off more magic. She's as good a bet as anyone to crash the final four at Wimbledon.
Predicted Quarterfinal Matchup: Cibulkova v. Marion Bartoli. Semifinalist: Cibulkova.
Bottom Quarter
The heavy hitters and ball-blasters will make their home in this part of the draw. Television executives are hoping and praying that there will be no early-round stunners in this section of the brackets, as Maria Sharapova-given a No. 24 seed by the All-England Club-appears primed for a fourth-round war with another shrieking, slugging star, Belarus's Victoria Azarenka. If that matchup comes to pass, the winner will then take on Serena Williams in a five-star quarterfinal. Sharapova defeated Serena in the 2004 final, for the first slam championship of her hugely successful career. With that being said, Azarenka is a rising star, and has the goods to derail Sharapova, whose shoulder is still not close to 100 percent. Azarenka-Serena would make for high-level tennis; Sharapova-Serena would make for through-the-roof ratings. In the end, it's tennis nuts, and not TV executives, who are likely to be pleased.

Predicted Quarterfinal Matchup: Azarenka v. Serena. Semifinalist: Serena
The Final Four: Semifinals and Final
Projected Semifinal No. 1: Safina v. Venus
On the clay of Paris or even the plexicushion of Australia, Safina would stand a very good chance against the elder Williams sister. On Wimbledon grass, however, Venus Williams is a woman transformed. Simply put, the powerful and agile athlete has a game tailor-made for grass. Venus likes the low hitting zones provided by the green stuff, and her serve explodes through the court on the surface as well. Venus can expect to win lots of cheap points on serve, and force the less-accomplished Safina to keep pace in a shootout. That's not what the Russian wants. Safina would do well to merely get to this point in the tournament. If she wants to win her first Grand Slam trophy, she'll have to do so at the U.S. Open in September.
Winner: Venus.
Projected Semifinal No. 2: Cibulkova v. Serena

Much as Safina dismissed Cibulkova 3-and-3 in the French Open semis, due to greater power and superior variety, Serena would have too much in her tennis toolbox for the 14th-seeded Slovakian. Perhaps one set will be up for grabs, but it's very hard to imagine little sister falling short of the finals, and a likely date with Venus.
Winner: Serena
Projected Ladies' Singles Final: Venus v. Serena
After last year's marvelous final-a low-error match played in incredibly gusty conditions that would normally produce ugly tennis-the Williamses would likely delight another Centre Court crowd on the final Saturday at The Championships. A few points here and there would decide each set on a day when nothing less than a 6-4 or 7-5 set should be expected from two first-rate competitors. Serena might have revenge on her mind, but it's difficult to dismiss the notion that Venus owns this tournament until proven otherwise. Call it the "champion's edge," but that's enough to give Big Sis the nod over her even more accomplished sibling.
Projected Champion: Venus Williams.
Tags:
No comments yet.
RSS feed for comments on this post.
Leave a comment
You must be logged in to post a comment.