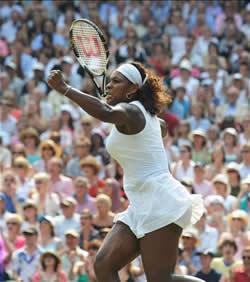 The history books will note that Serena Williams won Thursday's sensational Wimbledon semifinal against Elena Dementieva. When glimpsed from a higher vantage point, however, this ladies' singles spectacular formed a mountaintop moment that will be shared by both performers, and an audience lucky enough to watch it.
Yes, Serena claimed this classic confrontation, 6-7 (4), 7-5, 8-6, in 2 hours and 49 minutes before an enthralled and effusive Centre Court crowd, but the main storyline of this heartstopper-a heavenly chorus in the cathedral of tennis-was that for once, Dementieva shared the Grand Slam spotlight with the 10-time major champion, instead of shrinking from it.
Indeed, when a measure of this match is taken, tennis historians will be sure to realize that while Serena-still the best closer in the women's game-showcased the full range of her talents under pressure, it was Dementieva who was responsible for allowing Thursday's thriller to attain such lofty heights.
Dementieva's tennis journey has been a lucrative one (over $11 million so far), but a life on the WTA Tour has not netted the 27-year-old a Grand Slam trophy. Dementieva reached two major finals in 2004, but memorably choked at the French Open (against Anastasia Myskina) and faltered at the U.S. Open (versus Svetlana Kuznetsova). Since that season, Dementieva hasn't been able to get back to the finals of a top-tier tournament. This match on famed Centre Court marked the Russian's fourth semifinal appearance in her past five majors, but that consistency was somewhat overshadowed by Dementieva's failure to win any of those matches. A fixture in the top 5 but a rarity in championship matches at the most coveted events of the year, this vexing veteran needed to play against type if she was to remain competitive against Serena's expected onslaught.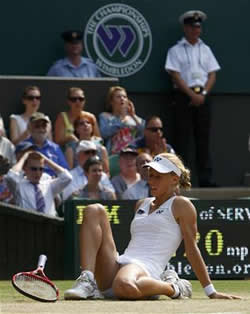 Oh, how Dementieva answered that clarion call.
On this electrifying afternoon, the No. 4 seed did endure her share of hiccups, such as a botched backhand that allowed Serena to take the second set, and a nervous forehand that allowed the Serena to break back early in the third set after the Russian took a 3-1 lead. With that said, Dementieva didn't descend into a pool of self-pity the way she normally has in semifinal slam showdowns. Whenever Dementieva dumped a ball into the net or sprayed a makeable shot wide of the sideline, she was able to play highlight-reel points immediately afterward. Forgetting her mistakes with uncommon poise, Dementieva exhibited the clearheaded crispness that elite athletes bring to the table in high-stakes situations. Adversity has typically toppled "Demmy" with ease in high-profile matches, but on July 2, 2009, this WTA workhorse found the tunnel vision that had eluded her for so long. Several instances revealed this encouraging development for Dementieva:
* Despite having to serve just to stay in the first set-at 4-5 and 5-6-Dementieva, long known as a fragile flower at the service line, stood tall on Thursday. The Russian wore out the corners of each service box, placing her first serves near the lines with a considerable amount of pace. No longer hitting cream-puff second serves as well, Demmy was able to hold for 5-all and 6-all, steering the set into a tiebreak that the Russian won when a Serena forehand landed just wide.
* In the second set, Serena-in the most controversial moment of the match-used a challenge from Hawkeye to save a break point at 3-4. Regular television replays indicated that Serena's forehand hit the baseline, but was just wide of the right sideline. Hawkeye disagreed, however, and the second-seeded American made the most of her second chance by holding for 4-all. Normally, that kind of turnaround would have shaken Dementieva's nerves, but in the next game, she held serve and stayed in the hypnotic trance that carried her through the day's play.
* After she briefly flinched to hand back her break lead early in the third set, Dementieva then held convincingly in each of her next four service games. What was especially remarkable was that after Serena saved match point and held for 5-all in the deciding set, Dementieva shrugged off that disappointment to hold for 6-5.
* In a larger context, Dementieva-slugging with distinction for nearly three full hours-inevitably encountered a tidal wave of frustrating moments when the prospect of victory faded as soon as it appeared. (Any tennis pro will meet with such experiences in a match that runs long.) Yet, to the very end, the Russian was playing high-level tennis, giving as good as she got against the most accomplished player of the 21st century. This version of Demmy will win a Grand Slam; the key will be for the 27-year-old to maintain the mindset that served her so well this Wimbledon.
Now, what to say about Serena that hasn't already been said?
Quite simply, a cinch for the International Tennis Hall of Fame actually managed to increase her stature in the sport with her performance against Dementieva. Serena Jameka Williams threw down 20 aces, most of them in the crucible provided by the latter stages of the third set. When down match point at 4-5, 30-40 in the third, Serena-who won just 9 of 19 net points on the day-had the courage to come to the net and correctly read a Dementieva passing shot. The Russian chose to go crosscourt, and Serena leaped to her left to knock off a backhand volley to stay alive.
As the heat of battle only grew more intense, Serena would play even better.
At 5-6 and deuce, the younger Williams sister traded sizzling two-handed backhands with Demmy, in a fearsome rally of breathtaking proportions. Serena's final backhand was so viciously struck that it knocked the Russian to the ground. On the very next point, a dazzling, all-court rally ended with Serena nailing an artfully curled crosscourt forehand passing shot to level for 6-all. In the following game, Serena-twice fighting for her life in her own service games-decided to apply pressure to Demmy's serve by ripping her returns and remaining willing to come to net. A steely volley at 6-all, 15-all landed on the baseline to give the No. 2 seed a 15-30 opening. A few points later, at 30-40, Serena uncorked a nasty return and, with the court pried open, hit a down-the-line forehand behind Dementieva to secure a break lead at 7-6.
With no final-set tiebreaks at Wimbledon, Serena had attained considerable scoreboard leverage, and when serving for the match at 7-6, that leverage turned into victory.
Finally able to serve for yet another Wimbledon final, Serena allowed her first serve to carry her to the finish line. Losing two points on second serves, Serena won all four first-serve points in the 14th and final game of the third set. When a Dementieva backhand barely missed the left sideline on match point, an unquestioned classic was complete.
Elena Dementieva simply played the best tennis match of her entire life, and yet, in the end, she still lost. That's all you need to know about one of the great women's tennis players of all time, and it's a fair way of summarizing one of the most memorable matches in Wimbledon's 132-year history.
Tags:
RSS feed for comments on this post.
Leave a comment
You must be logged in to post a comment.