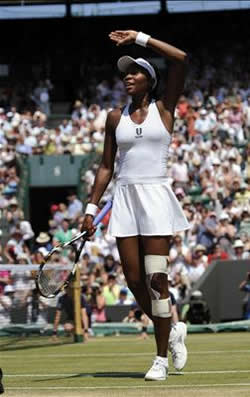 The second Tuesday of the Wimbledon fortnight is called "Ladies' Day," a nod to the presence of four ladies' singles quarterfinals without a peep from the men. In this latest version of all-female fare at The Championships, the daughters of Richard Williams and Oracene Price were anything but ladylike.
Big sister Venus and little sister Serena served notice that they intend to reunite for yet another Wimbledon final. Starting the day two matches away from a fourth encounter in the championship match at SW19, the greatest sibling act in sports now stands one round removed from the promised land. Venus destroyed Poland's Agnieszka Radwanska, 6-1, 6-2, while Serena smacked around Belarus's Victoria Azarenka, 6-2, 6-3. The dominating wins send the sisters into the semifinals on Thursday, against a pair of Russians who will be heavy underdogs. Venus will be opposed by leg-weary Dinara Safina in one semifinal, while Serena will take on Elena Dementieva in the other match on Centre Court.
Based on the form they displayed on Ladies' Day, Venus and Serena are once again setting the standard by which all their peers must be measured. In this Justine Henin-free world, a tennis terrain stripped of the one woman who could credibly attack and defuse the arsenals of these supreme sisters from the hardscrabble American streets of Compton, California, Venus and Serena stand alone at the top of the women's game. Safina might own the No. 1 ranking in the sport due to consistency on a 52-week-a-year basis, but when the majors arrive, it's the Williams family that rakes in the cash and the trophies. Such an outcome is to be expected at the Big W, which stands for "Williams" as well as "Wimbledon."

Venus and Serena own seven Wimbledon titles between them, and have met in three prior finals (2002, 2003, 2008). This year, an all-Williams final would net the sisters just under 1.3 million pounds. The battle would be to determine who would get the 850,000-pound first-place check, and who would "settle" for the 425,000-pound second place prize. If the victors claim the spoils in competitive athletics, the Williams family has been doubling its share of spoils in recent years at SW19.
As one could imagine, there simply wasn't any suspense to be found in either sister's quarterfinal conquest against an Eastern European opponent. When two players combine to concede just eight total games (three for Venus, five for Serena), it's clear that a backyard whipping is taking place. When Serena rips 13 winners and commits just 1 unforced error, as she did in the first set against an accomplished top-10 opponent such as Azarenka, it's of little use to say anything more; added details would only confuse the issue instead of clarifying it.
All one needs to say is that the Williams sisters were overwhelmingly good-scarily, enduringly, distinctively good on Tuesday. They didn't let their opponents breathe, submerging Radwanska and Azarenka in a flood of shots that reflected both an aggressive mindset and precise execution. Justine Henin could have been competitive with the sisters today, but for all of the retired Belgian's many on-court gifts, she wouldn't have been (and has never been) imposing enough to take down Venus or Serena under anything less than optimal circumstances. These two quarterfinal spankings clearly showed that both sisters are humming with efficiency and reveling in their athletic superiority over the rest of the ladies' singles field.
You can be their biggest fan or their harshest critic (goodness knows there's a large number of both groups), but no one can deny that after more than a decade on the WTA Tour, the sisters Williams haven't lost much of anything in the cauldron of major-championship pressure. Once again, Venus and Serena tower over every other woman at Wimbledon. Two successful semifinals on Thursday will only magnify the might of the family dynasty that still holds sway in women's tennis.
Tags:
The Williams' sisters are fantastic and awesome. The world knows who's on top. They are beautiful, humble and talented. They are numbers one and two in the world and especially in my book. The Tennis Federation should recognize that they are numbers one and two, and give them their correct rankings. I know that the Tennis Federation knows that they are awesome. These women deserve more hype than they are receiving. From the media, to the announcers as well as the other players. GIVE THEM THEIR RESPECT THEY DESERVE!!!!
RSS feed for comments on this post.
Leave a comment
You must be logged in to post a comment.