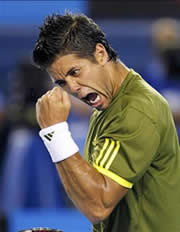 Three dependable veterans reached the semifinals of the 2009 Australian Open, the first major tournament of the new tennis season. The fourth member of that quality quartet emerged from relative obscurity to burst into the consciousness of tennis fans around the globe. Fernando Verdasco, the No. 14 seed and a non-factor before the tournament started, rocketed to the final four and gave eventual champion Rafael Nadal a battle royale before bowing in five classic sets. Despite losing a 5-hour, 14-minute match to the No. 1 player in the world, Verdasco helped create the mountaintop moment of the two-week event. His brave effort against Nadal gained Verdasco boatloads of new admirers for something other than his handsome physique. Here's a snapshot of the career of Fernando Verdasco:
Facts And Figures (Courtesy of the ATP Tour)
Birthdate: November 15, 1983
Birthplace: Madrid, Spain
Residence: Madrid
Plays: Left-handed
Turned Pro: 2001
Current ATP Tour Ranking: 9 (February 2, 2009)
Career-high Ranking: 9
Current Doubles Ranking: 31 (also career-high)
Career Singles Record: 196-150
Career Singles Titles: 2
2004: Valencia (clay), defeated Albert Montanes in final.
2008: Umag (clay), defeated Igor Andreev in final.
Career Doubles Record: 62-69
Career Doubles Titles: 1
2004: Stockholm (indoor hard), with Feliciano Lopez; defeated Wayne Arthurs and Paul Hanley in final.
Career Earnings: $3,714,040
Best Grand Slam Results by Tournament: Australian Open-semifinals (2009); French Open-4th round (2007, 2008); Wimbledon-4th round (2006, 2008); U.S. Open-4th round (2005).
Signature Achievement: Defeated Argentina's Jose Acasuso in five sets to give Spain a 3-1 victory in the 2008 Davis Cup Finals.
Essential Biography
Fernando Verdasco (whose full name is Fernando Verdasco Carmona) hadn't made much of an impact in the highest reaches of his profession. Long on talent, particularly in the form of an appreciably potent forehand, Verdasco lacked the extra measure of mental strength that separates high-level achievers from high-ambition wannabes. Verdasco possessed the game of a top 10 player, but the head of a man unwilling to embrace the pressure that is part of professional tennis.
At the end of the 2008 summer hardcourt season, there were absolutely no indications that this entirely respectable career-which had cracked the top 20 for the first time-was going to take off and acquire distinctly new dimensions of fulfillment. Verdasco, just before turning 25, found himself at the midpoint of his tennis journey, his prime years wasting away without the kinds of results an elite player should accumulate. Yes, a pair of fourth-round showings at Roland Garros and Wimbledon bumped up his ranking, but each of those defeats included a dark cloud.
In Paris, Verdasco wasn't fully healthy in his round-of-16 match against Rafael Nadal, as the three-time defending champion allowed Verdasco to win just three games in a 6-1, 6-0, 6-2 romp.
At Wimbledon, Verdasco gave a better showing in a round-of-16 match, this time against Croatia's Mario Ancic. Ironically, though, the improved performance would only set the stage for an even bigger fall.
Losing decisively to a dominant player like Nadal is one thing; it's quite another matter to waste a lot of good tennis due to an inability to close down a beatable foe. That's what happened for Verdasco in suburban London, as the Spaniard blew a two-set lead and then lost a marathon fifth set in which he stood just a pair of points from victory. Verdasco served first in the fifth set, which forced Ancic to repeatedly stay in the match. Verdasco had a few 30-all looks on Ancic's serve, but could never win the two points needed to punch a ticket to his first slam quarterfinal. After Ancic brought the set to 11-all, Verdasco finally wilted with a double fault and then a limp forehand to hand Ancic a break. the Croat didn't miss his golden opportunity in the following service game, and the damage was done. The 3-6, 4-6, 6-3, 6-4, 13-11 defeat-a "come-from-ahead loss" that stands on the other side of a "come-from-behind win"-left Verdasco reeling. The year's final major, the U.S. Open, witnessed a meek third-round showing for a player with so much more to give. Yet again, a frail mind overshadowed the tennis gifts of this lively lefty. A top 20 ranking was nice, but any self-respecting professional wants to know the satisfaction of playing up to one's potential, and Verdasco had not yet experienced that sweet sensation.
Amazingly, the darkness of that Ancic loss and his U.S. Open flameout would soon give way to a bright new dawn for Verdasco.
This unexpected rise to tennis prominence was surprising not just for its abruptness, but because it occurred in the midst of some high-profile off-court moments for a man who-in the past-had dated a number of models and gained a reputation as a playboy on the order of fellow tennis hunk Marat Safin.
In the second half of 2008, Verdasco generated headlines for reasons other than his Grand Slam failures. In July-shortly after his Wimbledon exit-Verdasco posed nude in Cosmopolitan magazine to raise awareness about male cancer for an organization called the Everyman Campaign. The gesture was generous, and it deserved to be viewed sincerely, but the unfortunate fallout from the incident is that it kept the focus on Verdasco's sex appeal, not his tennis. This kind of publicity only increased in intensity when, in late September, Verdasco began dating women's tennis superstar Ana Ivanovic. The tabloid photographer's dream seemed to confirm the idea that Verdasco's main pursuits led beyond the painted white lines of cutthroat competition. Like Safin and so many other talented millionaire tennis pros, Verdasco appeared content to coast on his good looks and relative wealth, instead of sacrificing to maximize his tennis talents.
But then came a trip to Argentina for the Davis Cup Finals. Every great career finds a turning point, a way out of the darkness, and on November 23, 2008, Fernando Verdasco experienced his tennis resurrection.
A certain man named Nadal (ever heard of him?) was supposed to represent Spain in the championship encounter against the Argentines, but when the No. 1 player in the world withdrew, Verdasco was asked to make the trip to Mar del Plata for the titanic tie. On day three of the event, the Spaniards had a 2-1 lead, but with Nadal resting his overtaxed body, the competition was anyone's to win. When Verdasco took the court with Acasuso in the fourth of five rubbers, no one in Estadio Islas Malvinas knew what to expect. Neither did Verdasco.
The match would, in many ways, become a microcosm of Verdasco's career: packed with moments of brilliance, but inconsistent in its ebb and flow.
Playing his first singles match of the event, Verdasco won the first set but then dropped the next two. Playing before a vociferous crowd in Argentina, Verdasco didn't just trail on the scoreboard at the end of the third set; he lacked the home-court advantage of a Spanish city. When Acasuso surged in front, it was hard to think that Verdasco had the mental fortitude necessary to clinch Spain's third Davis Cup title.
For one of the rare times in his life, Verdasco would prove the experts wrong.
Just eight days after his 25th birthday, a seemingly reborn Verdasco emerged in the fourth and fifth sets. Finding the range on all his shots-and more importantly, a level of confidence that eluded him for most of his career-Verdasco conceded just four games in the final two sets, winning the match without needing any late-stage drama. Verdasco didn't nip Acasuso at the wire; the man from Madrid strolled to the finish line with a 6-3, 6-7 (3), 4-6, 6-3, 6-1 victory that put Spain in the Davis Cup winners circle for the third time this decade.
Verdasco would later say that the event "changed my life." More than two full months later, it's impossible to argue with that claim.
Following his Davis Cup breakthrough, Verdasco-in a break from his fun-loving past-put in still more work in December under the watch of Andre Agassi's longtime trainer, Gil Reyes. While other glamour guys were partying hard in Las Vegas, Verdasco went to Vegas on Christmas Eve to work hard. The Spaniard ignored nights on the town in Sin City and instead spent his time training with Reyes, while also ducking in a frank conversation with Agassi himself. The wisdom gained and the fortitude found in that Vegas visit clearly paid off in the following weeks, as Verdasco put together the best Grand Slam event of his career.
In the first three rounds, the Spaniard allowed a total of 12 games combined, an incredibly low number for any tennis player at a slam event, Nadal and Roger Federer very much included. In the next two rounds, Verdasco absorbed the high-quality hitting of Andy Murray and Jo-Wilfried Tsonga before prevailing in extended battles that, in past years, wouldn't have turned out so well.
Equipped with overflowing confidence, Verdasco fired 95 winners in that epic semifinal against Nadal, holding his own against the world's best and very nearly winning. With Nadal serving at 4-all in the fifth set, Verdasco gained a love-30 opening, but a series of nervous forehands denied him a golden chance for a break and the ability to serve for the match. Serving at 4-5, Verdasco threw in two untimely double faults, one of them on match point, and a dream date with Roger Federer in the final went begging. Nevertheless, the heart and grit showed in his 6-7 (4), 6-4, 7-6 (2), 6-7 (1), 6-4 loss indicated that his offseason work had paid off. He might have split up with Ivanovic just before the tournament started, but at the 2009 Australian Open, Fernando Verdasco became wedded to something more precious: no, not an attractive woman, but the mental strength that finally allowed his enormous talent to shine through.
As Verdasco looks ahead in what is now a very promising 2009 season, a playboy-turned-pugilist can only hope that he'll be able to fight his way to the late rounds of many more Grand Slam events, and turn an underachieving career into a very sweet success story.
Andre Agassi will be rooting for him all the way.
Tags:
"Sex appeal", "good looks"??? I don't think so. But I do love the way he played against neanderthal man! He will put him back in his place as number 2 or 3 very soon.
RSS feed for comments on this post.
Leave a comment
You must be logged in to post a comment.