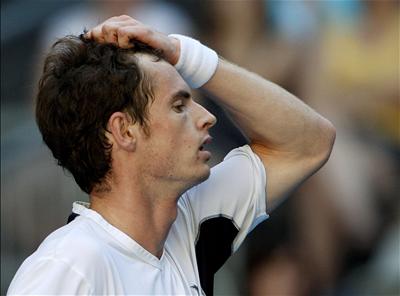 Just before the 2009 Australian Open, Roger Federer said that Grand Slam tournaments are "a different animal." The comment referred to the difficult task facing Andy Murray, regarded by many pundits as the favorite for the tournament despite the lack of a major title. Federer tried to make the point that it's extremely hard to win a slam championship for the first time.
The Swiss maestro's words proved to be remarkably accurate-just ask Murray himself.
Monday afternoon in Hisense Arena, the fourth-seeded Scot suffered the first major upset in the men's field, bowing to an ascendant Fernando Verdasco in five unpredictable but high-quality sets. Verdasco's 2-6, 6-1, 1-6, 6-3, 6-4 win, in 3 hours and 12 minutes, proved that the slams are indeed a different animal… and that the 14th-seeded Spaniard has become the very same thing.
In order to understand why Murray will have to wait to claim his first major championship, one has to realize that the man who bounced him out of Australia is a transformed individual. To appreciate the rise of Fernando Verdasco, you need to realize what has transpired over the past two months.
In late November, Verdasco filled in for Rafael Nadal and outlasted Argentina's Jose Acasuso in five sets, enabling Spain to win the 2008 Davis Cup on foreign soil. Verdasco viewed his moment of triumph as a life-changing experience, a first indicator of a career ready to make good on its potential.
Verdasco has long been a chronic underachiever. At 25, tennis's biological clock is ticking loudly for the Spaniard. Accomplished professionals should have at least one slam semifinal and several quarterfinals at such an age, but before this mighty effort against Murray, Verdasco had never reached the quarters at a slam. Davis Cup is all well and good, but that glorious dimension of the sport is fueled by the fires of nationalistic pride. Not-too-memorable pros such as Guy Forget (who never sniffed a slam title in a career which spanned the 1980s and early '90s) became Davis Cup heroes. Truly elite singles players have to bring their A-game to the sport's four supreme showcases.
Why, then, has this Australian Open produced superior results for Verdasco? What enabled a tennis journey marked by failure to give way to a second act?
In many ways, the reason why this tortured talent has become a different animal is that the man with a playboy reputation finally decided to put in the off-court work that pays off in the heat of Grand Slam combat. Verdasco-who wears Adidas apparel-has been able to train with Gil Reyes, Andre Agassi's longtime coach and the director of a Las Vegas-based fitness program that any Adidas-sponsored player can use. On Christmas Eve, while other players might have been partying hard, Verdasco chatted with Agassi and prepared for the 2009 season. Whatever Verdasco learned from Reyes and Agassi, it showed against Murray.
Unlike his previous trips to the fourth round of a slam, Verdasco didn't flinch when a highly-credentialed opponent punched him in the mouth. Verdasco got whacked by Murray in the first and third sets, but this new man-tougher between the ears-was able to immediately respond in the second and fourth stanzas. Verdasco gained a 2-0 lead in each set and then consolidated his advantage to take Murray to the limit.
In the fifth set, one could tell how far Verdasco has come in a relatively short time. The Spaniard exhibited the patience that a mentally relaxed and physically fit athlete will display after roughly three hours of competition.
The biggest point of the match came when Verdasco faced a break point while serving at 2-3 in the final set. Verdasco gained a winning position and hit a couple of high-percentage shots that-against less-accomplished opponents-would have been outright winners. Murray, however, sprinted behind the baseline to retrieve each delivery. Following the timeless tennis maxim to "make your opponent hit an extra ball," Murray-dealing with a cold on this afternoon-spilled what was left of his energy in the hope that Verdasco would live down to his old reputation.
This new-look competitor-made stronger by Reyes and inspired by Agassi-simply wouldn't flinch under fire.
Despite extraordinary defense from Murray, Verdasco calmly continued to run the Scot from sideline to sideline. The Spaniard hit several more shots that-while not ending the point-kept the pressure on Murray. Finally, a forehand to the ad court forced Murray to throw up a short defensive lob, and Verdasco easily put away the overhead. The scoreboard-then at deuce-might have suggested that the match was still Murray's to lose, but a larger reality indicated otherwise. Murray emptied his tank on that point, in a conscious decision to try to win the match. When Verdasco won the point, the ex-boyfriend of Ana Ivanovic realized that if he merely kept the ball between the white lines, he'd be able to outlast a tired foe.
Sure enough, that's exactly how the end of the match unfolded.
After saving that break point, Verdasco dominated the next two points to hold for 3-all. With Murray still gasping for breath, the Scot-unwilling to slow down-played his own service game at a normal pace. Still not recovered from all the running he did, Murray dumped a few easy shots into the net, and before he could blink, the No. 4 seed lost his serve. Verdasco-now in front at 4-3-had to toe the service line twice to slam the door, but after surviving blowout losses in the first and third sets, the idea of serving out the match didn't seem so daunting.
Serving at 5-4, Verdasco watched Murray wipe away two match points, but at 40-30, Verdasco cleverly employed an off-pace first serve to draw an error from the Scot. After so many face-plants in huge matches, Fernando Verdasco, this different tennis animal, had become a completely transformed creature blessed with his first Grand Slam quarterfinal. Andy Murray was left to realize that just like Verdasco himself, the slams really are what Roger Federer said they were: a different animal.
Tags:
No comments yet.
RSS feed for comments on this post.
Leave a comment
You must be logged in to post a comment.