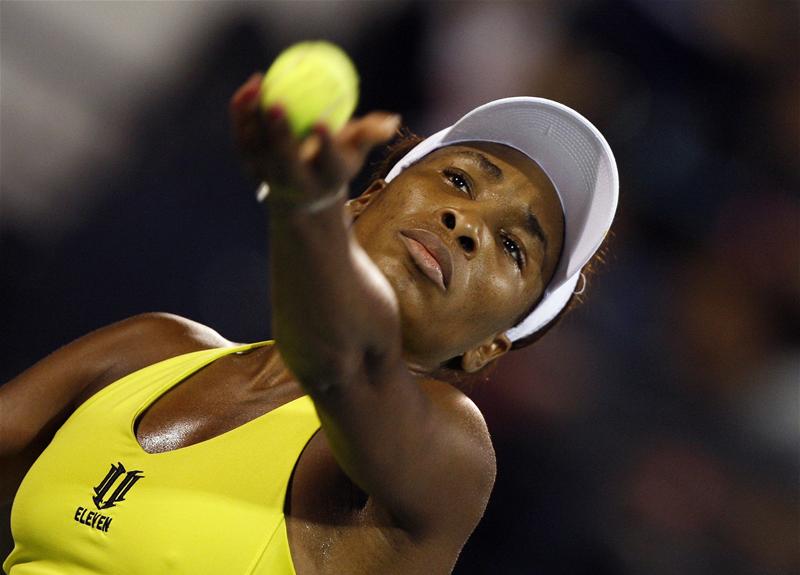 Venus Williams had all the answers for Shahar Peer's upset bid in their semifinal match at the Barclays Dubai Tennis Championship. The third seeded Williams used her blistering serve and a relentless ground assault to stave off the Israeli star's bid for her third consecutive upset.
Peer entered the tournament as the 22nd ranked tour player yet managed to unseat top seed Caroline Wozniacki and then 8th seeded Na Li to reach the semis. In her six years on tour, Peer has won five championships and become one of the tour's best doubles players. This year, Shahar has compiled an impressive 11-4 record. In a tournament filled with surprises, Peer had been the most prodigious underdog.

Last year, Peer was denied a visa and unable to participate in the prestigious $2,000,000 Dubai event. The tour players have stood behind Peer. In fact, Venus Williams has been one of Peer's most vocal advocates helping the Israeli procure a visa this time around. There is clearly a bond between the two players.
But, when the match was on, it was all about tennis. Williams is at home and comfortable on the Dubai hard surface. Her serve has been the strongest in the tournament and has led the three seed to the finals. Williams has yet to lose a set at Dubai.
Williams is seeking her 42nd tour championship. Williams defeated Peer 6-1, 6-4 and admitted to a concentration breakdown in the second set. She looks healthy, fleet afoot and ready to go in the finals.

The elegant Venus will have her hands full with the Belarus powerhouse, Victoria Azarenka. And, Victoria has a score to settle with the Williams sisters. In Melbourne the up and coming star had sister Serena on the ropes in the semifinals before the eventual champion rallied back from the brink.
Azarenka kept her focus throughout her semifinal win (6-3, 6-4) against the 7 seed Agnieszka Radwanska. Azarenka relied on her crisp groundstrokes and her improving serve to turn away the tenacious Radwanska.
The 20-year old Azarenka is seeking her fourth Sony Ericsson WTA tour title. She is a rising star on the circuit and is off to a good start this season with a 7-2 record. Azarenka has been on the cusp of a breakthrough ever since her performance at Melbourne in 2009. Consistency and focus have always been her most troubling characteristics. However, she is now regarded as an experienced center court competitor.

Williams enters the finals as the 5th ranked tour player while Azarenka is ranked 6th. This promises to be a battle between the elder Venus and a young would-be-heiress to the throne.
As evidenced in Australia, Azarenka is capable of extremely hot runs where nobody can stay with her. If Victoria gets into Venus' serve early, this one could be over in a hurry.
Tags:
No comments yet.
RSS feed for comments on this post.
Leave a comment
You must be logged in to post a comment.