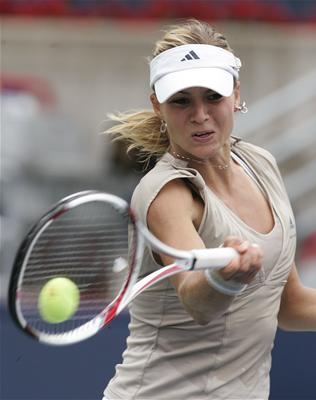 Maria Kirilenko is not household name yet. But if she lives up to her potential, 2009 could result in her raking improving to include her in the top 10. She is currently ranked 33, but has been as high as 18. An outstanding Junior player who grew up playing with her friend Ana Ivanovic, she was one of the youngest players to win both the Junior US Open and the Junior Canadian Open in 2002 when she was only 15. She turned pro a year later, and has gone on to win 3 ITF tournaments and 4 WTA tournaments, two of which were on clay and two on hard courts. She has been a doubles partner to some of the best players who choose her because they know of her talent, and also because she is simply a nice person to be around. She has won 5 doubles titles with such players as Maria Sharapova, Martina Hingis, and Nadia Petrova. She and Ana have played together several times but have not won a title together, that situation may change if they decide to play together in the 2009 Australian Open.
Maria is currently playing in the Hansoi Korean Open where she is seeded number 1. Her racket sponsor is Yonex, and having a sponsor in common with Ana Ivanovic has thrown the two girls together off the court at sponsor parties and press receptions. They form an unmatched one two punch in the glamour department, and are among the two sexiest players on the tour.
Maria's coach and friend, Eric Von Harpen who's daughter Laura is like a younger sister to Maria, have become her family away from home. Maria trains in Odessa on the Black Sea, and her interests outside of tennis include fishing and boating, and its not unusual to see her driving a car or even a yacht. She is a very intelligent person with a passion for classical music. She has often stated that she hears Bach or Mozart in her head when she is playing, and she believes the music helps to soothe her nerves and to keep her calm. Her coach does not totally agree, he is of the opinion that for Maria to fulfil her dream of becoming the best player on the tour, she needs to dedicate herself to that goal. "Natural talent alone is not enough," he says.
Maria is a gifted athlete with a natural grace around the court that is reminiscent of the style of Justine Henin, although her backhand is no where near as good, she has a quick tennis mind and outstanding anticipation. She is also an accomplished dancer, and at one time considered a career as a ballet dancer. Her tennis style is quite unique, and if she dedicates herself just to tennis she could easily be the star of the game within a year or two. Her success at the 2009 Australian Open will go a long way in assessing her new work ethic, and determining whether she is serious about her future.
Tags:
No comments yet.
RSS feed for comments on this post.
Leave a comment
You must be logged in to post a comment.