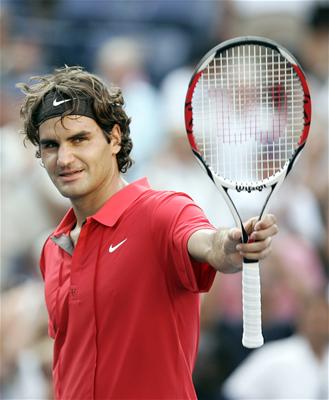 Gilles Muller's is the 'Cinderella story' of tennis. He captured the attention of every tennis fan at the 2008 US Open with his progress from qualifier to quarter finalist. On the way he knocked out Tommy Haas, Nicolas Almagro and Nicolay Davydenko before falling to Roger Federer. He entered the tournament ranked 130 in the world, booked into a New York hotel for 6 days and entered the qualifying rounds of the tournament. He won three qualifiers and made it through into the main draw. He unexpectedly made it into the second week of the tournament, packing the stands with fans rooting for this underdog, and he became the most talked about player in New York. He was asked to leave his hotel, his reservation was for only six days and the hotel was fully booked, so he was forced to move across the street to another place.
"For the first time I'm winning lots of matches, something I've never done before. I would win a match and then lose the next one. I was thinking about the win and not focusing on the game I was playing. I'm staying calm now, playing each game as it comes, and playing relaxed. I have nothing to lose."
Prior to playing in New York Gilles was playing in a Challenger Series match in Turkey in front of two people, one of whom was his coach. He considered quitting because as he says, "every week you're losing money because the expenses come to more than the earnings. A Loser in a small tournament makes less than $5000, unlike the US Open where even the first round losers make about $25,000."
Gilles was a former Number 1 ranked Junior player, and like Baghdatis and Tsonga, who were also highly regarded juniors, he doesn't see why he can't be like them and make it to the final of a Grand Slam event. He is left handed, 6′ 5", and has a powerful accurate service that brings him lots of free points. He could be a threat in the 2009 Australian Open, and will hopefully make a two week reservation at his hotel in Melbourne.
Beating top ranked players is nothing new for Gilles. At the 2005 US Open he beat local favourite Andy Roddick in the first round, and in the same year he also beat Rafael Nadal at Wimbledon. He beat Andre Agassi in 2004 on his way to winning his first event.
He was born in Luxembourg, and has played for his country in 4 Davis Cups. He speaks fluent English and is quite outspoken about his own game and that of his opponents. He has a few controversial ideas about the men's tour, and its treatment of the players. He has competed in 25 finals during his career, winning 9 singles titles and 2 doubles titles. For the first time he will not have to qualify to enter a Grand Slam event, his ranking leaped to 68 after the US Open, so he should be fresh and ready to give a headache to any one of the top ten players he happens to meet at the 2009 Australian Ope
Tags:
No comments yet.
RSS feed for comments on this post.
Leave a comment
You must be logged in to post a comment.