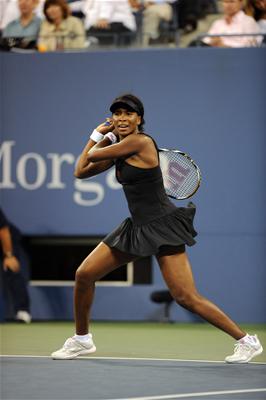 Three weeks ago Venus Williams the 28 year old 'veteran' and winner of 5 Wimbledon titles and 2 US Open titles, decided to enter a relatively small tournament in Zurich Switzerland, where the top prize was a mere $95,000, so she could collect sufficient points to qualify for the year ending Sony Ericsson Championships in Doha. If we have learnt anything about Venus Williams over the years, it must be that when she puts her mind to it she is capable of beating all the 'best' players in the world, and more importantly to her, she achieves what she sets out to do.
In yesterday's final she came back after losing the first set to defeat Vera Zvonareva 6-7, 6-0, 6-2. She played as if her mind was honed in on victory, which it was. She served as well in this match as in any she has ever played, she was aggressive from the baseline, and she meticulously constructed point after point in the style of other great players. She frustrated her opponent, forced her into making errors and ran her sweet ass off. Zvonareva knew from the moment the second set began that she had awoken a sleeping giant by winning the first set. There was never any doubt as to who the eventual winner was going to be.
Venus received a check for $1.34 million to bring her total career earnings to a staggering $22 million, and at 28 she proved that she can rise back to the top of the ladies game if she sets her mind to the task. Billy Jean King was present at the presentation ceremony which in an unprecedented move for Qatar was attended by Sheika Mozah bint Nasser Al Missned, the wife of the ruling Sheik, dressed in black robes and head scarf. The outfit itself could have been designed by Venus, and while she never said so I bet she thought it as she exclaimed, Wow, Thanks to your Royal Highness for coming!
The win for Venus of the WTA Championship, an event she has missed winning twice before, adds yet another notch to her winning belt of tennis achievements, and for a while she has eclipsed her sister Serena as the best and most consistent of the two. Her year end ranking goes up to #6, and Zvonareva rises to #7, for her best performance to date.
The doubles title was won by the pair of Cara Black/Liezel Huber over Kveta Peschke/Rennae Stubbs 6-1, 7-5.
And so the season has come to an end, Jelena Jankovic can rest on her laurels as the Number one player, but she must know that with the imminent return of Maria Sharapova, and a dedication to play more from Venus and Serena Williams, her days as the best player might be numbered. Venus ended her season on a high note, she was the best player in Doha without any doubt, but can some of her success be attributed to her freshness from not playing as many events as most of the other players. Is the WTA schedule too gruelling for the players to be at their best each and every time they step on court? When November rolls around are they too tired, sore and hurting?
Tags:
No comments yet.
RSS feed for comments on this post.
Leave a comment
You must be logged in to post a comment.