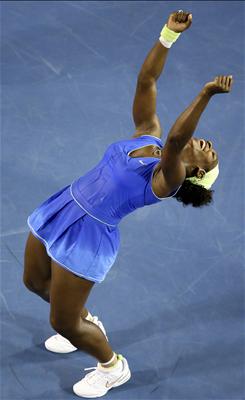 Serena Williams has an air of joie de vie about her. Some fans interpret that as brash cockiness, but those fans do not understand Serena Williams. In the finals of the Australian Open, Serena laid claim to the world's number one ranking and displayed her superlative tennis skills to the packed house as well as to huge television audiences around the world. The humiliation of the Russian finalist and number three seed, Dinara Safina, was a credit to Serena's immense talent and Safina's inability to perform on center stage.
Safina, who survived two match points against France's Alize Cornet earlier in the tournament and who had been dominant through most of her matches, could no nothing right against the stronger, quicker and more experienced 27 year old American. The hard-working Russian was pressured from the beginning and did not manage to hold serve until the fourth game of the second set. The crowd was uneasy with Serena dominance and tried to lift Dinara's play with vocal support. Safina's frustration showed in every aspect of her demeanor as unforced errors, double faults and failed strategy became more and more evident with every toss of the racquet.
The 6-0, 6-3, match was over in 58 minutes. The fans, who were hopeful of another Nadal-Verdasco type encounter, were left wondering how good Serena Williams really was. Professional women's tennis is on the mend. Players are improving but few posses the natural talents that come so easily to Serena.
Venus Williams combined with Serena to win the doubles yesterday and today served as her sister's warm-up partner. It is safe to say that the warm-up was probably more challenging than the finals. In a post match interview, Dinara described herself "as a ball girl on the court with Serena." Despite her sub-par performance, Safina will move into the number two ranking behind Serena. Such is the state of Women's Tennis today.
Serena's 10th Grand Slam Championship and fourth Australian Open title put her in some very exclusive company. Her win moved her ahead of Monica Seles on the Grand Slam total title scoreboard. She now sits alone in 7th place.
Williams who only committed seven unforced errors won 95% of her first serves while Dinara could only win 52% of her first serves. Safina also double faulted five times compared to nine for Serena. From the outset, Serena appeared to take an aggressive posture against Safina who had never reached a Grand Slam finals before. The 6'0" has worked herself into the best shape of her career, but she was slower afoot than Serena and was forced into a defensive posture from the beginning of the match.
Safina managed to break Williams in the first game of the second set. The audience rallied behind the underdog, but Williams came out swinging and broke back immediately before holding in game three. Safina held to get to 1-3. It was clear that she did not have the firepower to move the relentless Serena around the court. Serena's ability to stay focused spoke loudly of her big match experience.
Recently, there have been retirement rumors for Serena. Based upon the 2009 Australian Open, she would be retiring as the dominant force in Women's Tennis. At this moment, Women's Tennis needs Serena Williams more than Serena needs Women's Tennis. Hail to the Queen!
Tags:
No comments yet.
RSS feed for comments on this post.
Leave a comment
You must be logged in to post a comment.