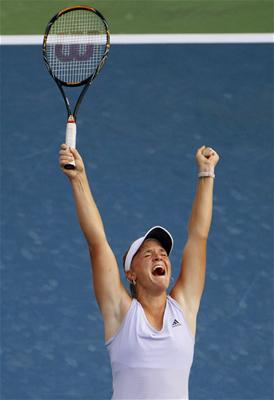 Melanie Oudin, all of 17 and hailed as the future of American women's tennis lived up to that billing as she upset 29th seeded Russian, Maria Sharapova in three sets at 2009 US Open. Oudin coming from a set down to win it 3-6,6-4,7-5 with the match clock running just two minutes shy of the three hour mark.
16 breaks of serve in the match, with Oudin converting on eight of her 26 break point opportunities while Sharapova converted on eight of her 14 break point opportunities. Sharapova's serve was broken four times in the final set despite breaking three of Oudin's service games herself. Looking through the statistics for the game, it was more a match of errors. Even though Oudin won a 114 points of the 213 contested , Sharapova was a helping hand in Oudin getting that many by committing 63 unforced errors and double faulting 21 times on her serve.Sharapova on the other hand, had to work harder for her 109 points over the course of three sets, with Oudin committing 44 unforced errors and 6 double faults.
Coming down to it, Oudin should've been through in two. Sharapova's game wouldn't have lasted a full three sets against any of the other top 10 players and it was just Oudin's inexperience that took this one to three sets. Oudin next plays another Russian, 13th seed Nadia Petrova who won't be as generous with Oudin as Sharapova was. Petrova having just 17 errors over the course of two sets as she brushed aside Jie Zheng, the Chinese 21st seed, 6-4,6-1. Oudin will really have to up her game to progress through to the Quarter Finals.
Tags:
No comments yet.
RSS feed for comments on this post.
Leave a comment
You must be logged in to post a comment.