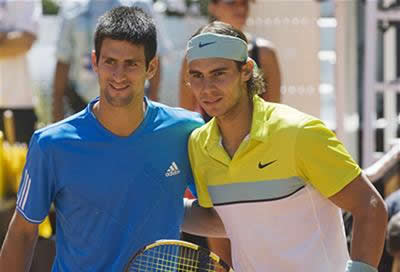 They don't call Spain's glorious new tennis facility The Magic Box for nothing.
In the very first year of its existence, the architectural marvel played host to one of the finest tennis matches ever contested, anywhere and anytime. In the decades to come, many more Madrid Opens will unfold at "La Caja Magica," but the first edition of the brand-new claycourt tournament has set a very high standard that will be nearly impossible to top in the future.
In a glowing gladiatorial gunfight of legendary proportions, Rafael Nadal heightened his already-stratospheric claycourt credentials by nipping Novak Djokovic at the wire in a Saturday semifinal that won't soon be forgotten. Nadal saved three match points and survived two terrifically tense tiebreaks to escape with a rousing 3-6, 7-6 (5), 7-6 (9) victory in 4 hours and 2 minutes of enthralling action. The match didn't just provide first-class competition from two A-list warriors; the grand display of mortal combat represented the longest best-of-three-set match in the history of the ATP Tour's Masters Series, which began in 1990.
The lasting significance of this mind-bending Masters 1000 masterpiece is that it reaffirmed Nadal's ability to take an elite opponent's best punch and still win. Djokovic-who has been enjoying a terrific claycourt season and had reached the finals of the previous three Masters 1000 events-said after the match that "I even played a few points beyond my limits but still couldn't win." Only Rafael Nadal can make another Grand Slam champion feel that way. The 22-year-old Spaniard, who somehow manages to grow in stature despite achieving outrageous feats in virtually every event he enters, has a proven knack for winning points, games, sets, matches, and championships even when the man on the other side of the net is doing little if anything wrong. Djokovic considered this match his best tennis, and yet Nadal-by sheer force of his inexhaustible and indomitable will-flatly insisted on advancing to Sunday's championship match against Roger Federer, a man who knows what it's like to play great tennis against Nadal, and still walk off the court without a trophy in his hands.
Just how remarkable was Nadal's resolve in this latest classic match, the newest addition to Rafa's collection of all-time tennis treats? As was the case in his Australian Open wins over Fernando Verdasco (in the semifinals) and then Federer (in the final), Nadal refused to fold in the face of death. Djokovic-who played an outstanding first set and dictated nearly all of the match through the first two stanzas-had a break point on Rafa's serve at 4-all in the second, but Nadal swatted it away. Djokovic had another break point at 5-all, but Rafa ratcheted up his focus to hold for 6-5. Once in the tiebreak, Nadal-who sprayed his groundstrokes in a grubby first set, and lacked appreciable penetration on his shots for much of the afternoon-tightened up his game to squeak by, 7-5, and level the match at a set apiece.
Such gallantry, as impressive as it was, would pale in comparison to the thrills and chills of a remarkable third set.
On and on Nadal and Djokovic traded punches, fighting well into the evening and outlasting the sun that drenched Manolo Santana Centre Court at the beginning of this semifinal struggle. The two men, battling tightness in the knees (Nadal) and late-match cramps (Djokovic), exchanged breaks to work their way to a deciding tiebreak, when a mesmerizing sports moment found a way to attain an even higher plateau of quality. Djokovic would earn match points at 6-5 and 7-6 in the third-set tiebreak, only for Nadal to reach into his quiver and hit the bulls-eye on two signature down-the-line forehands. After Nadal won the fifteenth point of the tiebreak to earn his first match point at 8-7, the steely Serbian star pulled the trigger on a ballsy drop shot that was perfectly placed and executed. Though the Madrid crowd was deprived of a win for its national hero, Djokovic had elevated the level of the classic confrontation by becoming the second player to face-and save-a match point. When one player overcomes the ultimate pressure cooker to create an extended battle, a tennis match acquires a transformed feel and flavor; when both competitors can survive the cauldron of match point nerves, the sport reaches its absolute zenith. In the final and fabulous few points of this Madrid Open magnum opus, Nadal and Djokovic allowed their dizzying duel to climb even higher in the esteem of the global tennis community.
The final four points of the match possessed the unpredictability that defined the back-and-forth brawl, but they lacked the brilliance of the first 17 points of a third-set tiebreak sent to earth by the tennis gods. Djokovic earned a third match point at 9-8, but then sprayed a return. On Nadal's second match point at 10-9, Djokovic smacked a groundstroke into the net instead of maintaining the form that had carried him to the brink of victory. The final Djokovic error sent Nadal-as is his custom in evidently epic matches-falling to the ground in a state of exhausted ecstasy. After little more than four hours of total effort in the truly magical Magic Box, the world's best tennis player reminded everyone why he so completely owns and deserves the distinction. On an afternoon when his knees were less than fully fit, and his groundstrokes lacked their normal conviction and sting, Nadal was still able to turn back a top-4 opponent and Grand Slam champion who couldn't have played any better. If you're still not sure that Rafael Nadal is one of the greatest tennis players who have ever lived, go back and re-read that last sentence to understand the brilliance of the masterful Mallorcan. Many tennis titans have owned greater gifts and more elegant shotmaking artistry, but no soul-male or female-has ever competed with the unflappable focus unfailingly displayed by one Rafael Nadal. That's why a man who's a month short of his 23rd birthday is being considered-legitimately and rightfully-as the greatest claycourt player who has ever held a tennis racket.
***
Other Madrid Open Scores from Saturday
Men's Semifinal No. 2: (2) Roger Federer d. (5) Juan Martin del Potro, 6-3, 6-4; Federer will face Nadal in Sunday's championship match
WTA Tour - Women's Madrid Open
Women's Semifinal No. 1: (9) Caroline Wozniacki d. Amelie Mauresmo, 7-6 (1), 6-3
Women's Semifinal No. 2: (1) Dinara Safina d. Patty Schnyder, 6-4, 6-2; Safina will face Wozniacki in Sunday's championship match, which will precede Federer-Nadal at Manolo Santana Centre Court
Tags:
No comments yet.
RSS feed for comments on this post.
Leave a comment
You must be logged in to post a comment.