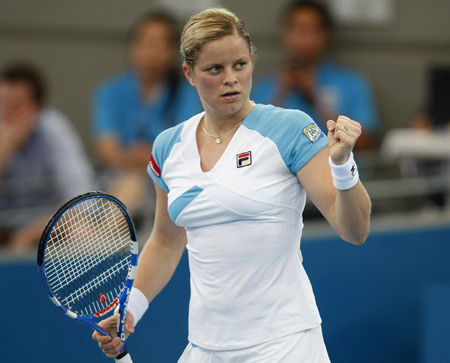 Two experienced veterans have brought Brisbane alive! In dream-come-true finals, two former tour headliners have emerged from retirement to give tournament organizers and tennis fans a match many feared would never be played again. 26-year old Kim Clijsters and 27-year old Justine Henin will have another go at it in the Brisbane finals.
At this time last year, both players were retired. Clijsters came out of retirement and stormed to the U.S. Open Championship two weeks later. This is Henin's first tournament since leaving competition in 2006. Both players appear fit and more talented than most of the current crop of tour players. The Brisbane finals could signal a shift in the structure of women's tennis in 2010.
The elder Henin holds 41 tour titles. Clijsters has won 35 tour singles tournaments. The two Belgians have gone head-to-head 22 times, with Henin leading the series 12-10. In WTA pairings, the record is 10-10.
Based on her strong showing in New York, Clijsters is the top seed in the Brisbane event. In the semifinals, she was tested by young Lucie Safarova. Kim prevailed in three sets but lost the second set 0-6, before rallying for a 6-4 third set victory.
The unseeded Henin was an unknown commodity when she arrived in Auckland. The 5'5" mighty-mite has made a forceful point that she is ready for action. In the first round, Justine served early notice by knocking off number 2 seed Nadia Petrova 7-5, 7-5. In the quarters, Justine showed her usual mettle in downing seventh seeded Malinda Czink before convincingly ousting third seeded Ana Ivanovic (6-3,6-2) in the semis.
Henin sports 493 tour victories compared to Kim's 440 wins. Each player has lost just 107 times. Other tour players should take note that these two savvy veterans are back and in form.
Perhaps their most memorable match was their 2004 Australian Open, won by Henin in three sets. Both players have won the Aussie Open and it is hard to rule them out this year. They will advance well into the draw. We have previously picked Clijsters to win the Open title.
Henin and Clijsters bring so much to women's tour. Welcome back! Thanks for the memories and the new air of excitement about the upcoming 2010 women's field.
Pennetta vs. Wickmayer at Auckland NZ
Rising star and third-seeded Yanina Wickmayer overcame the formidable effort of tour veteran Shahar Peer (6-4,7-5) to advance to the finals against top seeded Flavia Pennetta. The finals of the 2010 ASB Classic will be played Saturday.
With Henin and Clijsters squaring off in Brisbane, Wickmayer's victory makes a solid statement about the strength of Belgian tennis. In post match interviews, Wickmayer said she had not played her best tennis, committing far too many unforced errors. That is a trend the 20-tear old star will need to reverse against Flavia.
On the other hand Flavia Pennetta showed why she is seeded number one. In a near flawless effort, Flavia ousted fellow Italian powerballer Francesca Schiavone (6-3,6-0). Oddly, the two are doubles partners. Pennetta's performance in the quarters was just as impressive as she downed Dominika Cibulkova while losing just three games.
In the only previous meeting between the two finalists, Wickmayer prevailed over Pennetta in October 2009. Both players won two WTA events in 2009 and are ready for a great season ahead. Aren't we all?
Tags:
No comments yet.
RSS feed for comments on this post.
Leave a comment
You must be logged in to post a comment.