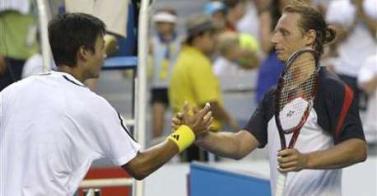 In one sense, it was a huge surprise that tenth-seeded David Nalbandian crashed out of the Australian Open in the second round. Then again, one of the tennis world's most puzzling players can never proceed through a tournament without serving up a surprise.
On paper, the Argentine had no business ducking out of the year's first major. Nalbandian faced No. 61 Yen-Hsun Lu of Chinese Taipei, a man who had never advanced to the third round of a Grand Slam singles event. After a sluggish pair of sets, Nalbandian somehow managed to stay even in the match, only because Lu felt the pressure of the moment and tightened up at the end of the second set. Serving at 5-6, Lu sprayed some errors and then shanked an easy overhead on break point to put Nalbandian on level footing. When the Argentine then took the third set by a 6-4 score, it seemed that order had been restored.
Instead, the biggest enigma this side of Marat Safin chose to confound the cognoscenti once again.
Precisely when he gained an advantage over a less experienced and less talented player, the South American standout stumbled. With shade fully covering the court in the late afternoon hours at Hisense Arena, Nalbandian couldn't deliver a kill shot in the fourth set, as Lu prevailed, 6-4. Still equipped with one more chance to make good in set five, Nalbandian threw in the towel, bowing out meekly in just eight games. The new kid on the block had pulled out a "Lu Lu" of a win, 6-4, 5-7, 4-6, 6-4, 6-2.
What to make of this latest letdown from Nalbandian? While early-round flameouts are the rule more than the exception for the 26-year-old, it's still hard to understand why this supreme talent so consistently crumbles in the crucible of Grand Slam competition.
Understand this about David Nalbandian: In terms of the tennis lottery, the Argentine was blessed by the heavens. Lots of players lack natural gifts, and have to succeed solely by dint of hard work. Nalbandian didn't have to bear such a burden, for no other male tennis player from the Southern Hemisphere since Guillermo Vilas has possessed so much ability. Brazil's Gustavo Kuerten owned the French Open in his heyday, but Nalbandian has the kind of game that can succeed on all surfaces.
The Nalbandian toolbox of tennis skills is a deep one, with many instruments at the disposal of an often artful Argentine. Nalbandian has a textbook-perfect two-handed backhand, for starters. Second, he is a master at taking the ball early, a la Andre Agassi, and robbing his opponent of time in a baseline rally. Third, Nalbandian knows how to construct points and blend angles with variations of pace. The counterpuncher's feel for the game has enabled Nalbandian to anticipate shots and stay one step ahead on the court.
The record shows that some impressive results exist on the Nalbandian resume. Interestingly enough, this longtime resident of the top 10 (now ranked at 11) reached a Grand Slam final in the event least suited to his baseline-oriented, all-court game: Wimbledon. Nalbandian's appearance against Lleyton Hewitt in the 2002 final stunned the tennis community, but it revealed a competitor with the chops to excel in any environment. Nalbandian's nerves affected him in that loss to Hewitt, but at the time, the setback seemed minor compared to a bright future that lay ahead. With better mental toughness, the world would become an oyster for the avid fisherman.
Instead of ripening into a complete champion, however, Nalbandian has never tasted Grand Slam glory. A career laden with such promise has fallen far short of its potential, all because the mental toughness missing from the 2002 Wimbledon final never really emerged.
The story of Nalbandian's Grand Slam career is a story of immense disappointment. Losses like today's setback in Australia play a part in painting such a picture, but the biggest reason for Nalbandian's unfulfilling sojourn through slams is the reality that his biggest defeats have been caused by a lack of toughness. Whenever a Grand Slam prize looms before his eyes, David Nalbandian's appetite hasn't been matched by his will.
In the 2003 U.S. Open semifinals, he had a match point in the third set against Andy Roddick. Roddick saved that match point with an ace and took the third set in a tiebreak, but Nalbandian-still in front by a set-wilted in sets four and five to lose his chance at a major title. The end result was surely discouraging, but the performance-far better than the '02 Wimby final-gave Argentina reason to think that its foremost tennis star would knock the door down sooner rather than later.
That didn't happen, because Nalbandian continued to show that he couldn't stand prosperity.
In 2006, Nalbandian reached the semis at the Australian and French Opens. In Melbourne, Nalbandian once again squandered a two-set lead, losing to Marcos Baghdatis in five. Four months later in Paris, Nalbandian dominated the first set and a half against Roger Federer before relenting midway through the second set, and then suffering an injury at the end of the set. While many players in his position would have spilled their intestines on the court, Nalbandian chose to retire midway through the third set. The incident represented the biggest mind-body breakdown in a career marred by a lack of commitment to physical conditioning. Unfit in the body and weak in the brain, Nalbandian has made little use of his evident and abundant tennis gifts. Once No. 3 in the world, and currently the owner of a very respectable 8-10 record against Federer, Nalbandian hasn't managed to win even one slam, despite the kind of talent that has often puzzled the greatest player of the early 21st century.
If you can trouble Roger Federer on a consistent basis, you should be able to win at the highest levels of tennis. David Nalbandian-once again out of slam contention-has far too much talent to be losing in the second round of a slam to a No. 61 player.
Tags:
No comments yet.
RSS feed for comments on this post.
Leave a comment
You must be logged in to post a comment.