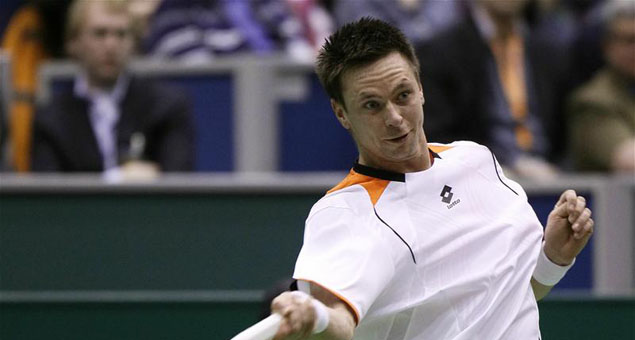 The Open 13 tennis tournament in Marseilles, France, is quite literally proving to be an "open" tournament. In Thursday's round of 16 matches - singles and doubles alike - the smell of cutthroat competition wafted through the sterile indoor air at the Palais des Sports.
If anyone thought that the top seeds in this event would have a cakewalk to the semifinals, such notions were decisively dispelled on Thursday. Elite players did win matches, but not before having to sweat and strain in order to reach the finish line first.

No. 1 seed Robin Soderling - fresh from a title at Rotterdam the week before - made his way into the quarterfinals, but just barely. The hard-swinging Swede lost the first set of his round of 16 match against unheralded Ukrainian journeyman Sergiy Stakhovsky before rallying to claim a 6-7 (5), 6-3, 6-4 triumph.
The match was difficult, but the sluggish victory had to be satisfying for Soderling (and his fans as well) because the 2009 French Open runner-up has faltered against inferior opposition on so many prior occasions in his career. The newer, better and more successful incarnation of Soderling has climbed up the ladder on the ATP Tour precisely because he's been able to dig out a number of razor-close wins. This escape against Stakhovsky served as a perfect example of that dynamic.
The other Thursday singles matches proved to be just as contentious. Third-seeded Frenchman Gael Monfils - despite playing on native soil - didn't coast past Italy's Andreas Seppi. "Bambi," as he is nicknamed, needed a full three sets and two tiebreak wins to scrape past Seppi, 7-6 (4), 3-6, 7-6 (3).

In the bottom section of the top half of the singles draw, more matches went the distance. Wild card Guillaume Rufin continued his improbable march to the round of eight by outlasting Yannick Mertens, 6-3, 2-6, 6-2.
The quarterfinal field was completed in the day's fourth singles match, and on this occasion, the favored player lost. Lucky loser Ilia Marchenko moved forward in Marseilles by knocking off Belgian veteran Olivier Rochus, 6-1, 3-6, 6-2.
Marchenko figured to succumb to his experienced opponent's court coverage and overall savvy, but Rochus - who won his career head-to-head competition with Marat Safin (that gives you a sense of Rochus's abilities) - could not calibrate his groundstrokes well enough to take control of the proceedings. Robin Soderling and Gael Monfils might have carried the banner for elite players near the Mediterranean Sea, but they've been joined in the quarterfinals by Rufin and Marchenko, a pair of upstarts unaccustomed to the latter rounds of an ATP event.

Thursday proved to be so competitive in Marseilles that the doubles matches also proved to be wild. In one of the two doubles duels, the team of Rohan Bopanna and Jeff Coetzee proved to be a worthy opponent for the pairing of Marc Lopez and eliminated singles participant Tommy Robredo. After splitting two full-length sets, the two sides needed 40 points to decide the super tiebreak and, with it, the round of 16 showdown.
In what was essentially a coin-flip competition between two equally skilled teams, Bopanna and Coetzee took the final two points to dig out an overtime victory, 4-6, 6-1, 21-19.
In the other round of 16 doubles match, Julian Knowle and Robert Lindstedt didn't have an easy time against Sanchai and Sonchat Ratiwatana. However, the parade of three-setters that took place on Thursday made it seem as though the veteran doubles pair had an easy time of things in France. Knowle and Lindstedt needed "only" two sets and "only" one 20-point tiebreak to push past the Ratiwatanas, 6-4, 7-6 (9).
Tags:
No comments yet.
RSS feed for comments on this post.
Leave a comment
You must be logged in to post a comment.