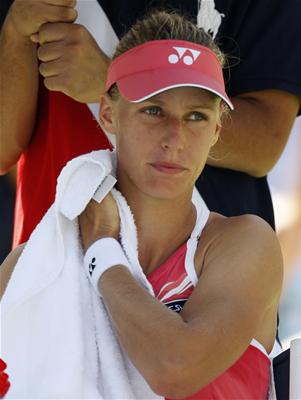 Arthur Ashe Stadium will feature the day's top match on Day Four of the Open. Diminutive Melanie Oudin, a surprise quarterfinalist and media darling will face the best player in the Women's Draw, Elena Dementieva, in a match between two great players with very different styles. Today, the edge goes to Elena, but watch out next year.
The winner will most likely play former U.S. Open Champion and World Number One, Maria Sharapova. Sharapova looked impressive in her opening round match and may benefit from what should be an early round test for Dementieva who recently topped Maria in Toronto.
The bouncy 5'6" Oudin will bring vocal fans and a go-for-broke mentality to the no-lose situation. Melanie stormed to her biggest win at Wimbledon when she ousted heavily favored Jalena Jankovic in three grueling sets. Oudin is tireless and supporters relish her Energizer Bunny competitiveness.
That may not be enough against the 5'11" Russian beauty queen Dementieva, the tour's hottest player. Elena showed a new and improved serve at Wimbledon and severely tested eventual champion Serena Williams. Along with her newfound velocity has come a big does of confidence.
Long known for her smooth groundstrokes, Dementieva has tremendous court-coverage and moves as gracefully as any player on the circuit. Little Melanie may not be ready for this big a jump but the match should provide a learning experience extraordinaire. However, those who know the fireplug report that she is ready for the challenge. Watch out world!
Meanwhile another young American star will be facing another Russian glamour girl. New Jersey's Christina McHale will face the imposing Sharapova in another match that will draw huge galleries. While the Americans are decided underdogs, an upset by either young star just might launch a new chapter in American tennis history. The Sharapova match will be on national television at 7:00 p.m. from Arthur Ashe.
Following that match Andy Roddick will give his legions something to cheer about against France's Marc Cicquel. Roddick appears headed for a collision with the 4th seeded Serbian star Novak Djokovic in the quarters.
Top seed, Dinara Safina, 5th seed Jankovic, 6th seed Svetlana Kuznetsova, Djokovic and 20th seed Tommy Haas will all be on court today. Stay out of the sun and in the game on Day Four!
Tags:
No comments yet.
RSS feed for comments on this post.
Leave a comment
You must be logged in to post a comment.