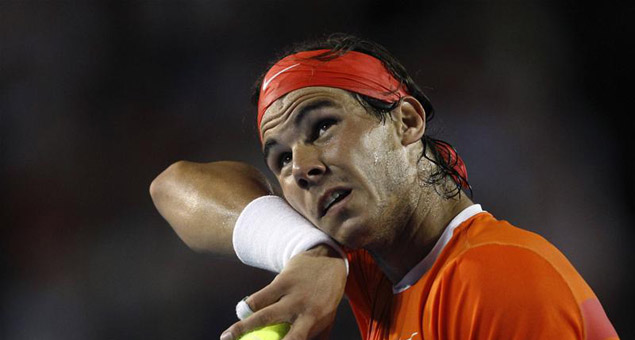 While the landscape of women's tennis is changing, the men's field seems a bit more predictable. Early-line odds makers strongly favor Spanish clay court magician, Rafa Nadal while the current unranked favorite on the women's side is Belgian Justine Henin. Too bad the odds makers and the ranking committees can't get together. We might have more balanced events.
It is easy to build a case for both favorites. Nadal has played in five French Opens and won four of them. Henin has also won four tournaments at Roland Garros. She has entered the tournament eight times. Nadal boasts six Grand Slam titles, Henin seven.

Apparently, since returning to the tour, Henin has impressed everyone except the tour's hierarchy. That's the hierarchy that ranks Dinara Safina second, Caroline Wozniacki fourth and Kim Clijsters 17th. Help!
On the men's side, the Great One, Roger Federer, winner of last year's tournament, is listed at 9/4 with rising star Juan Martin Del Potro, at 4/1, just ahead of Novak Djokovic at 7/1 and Andy Murray at 8/1.
The ever dangerous Nikolay Davydenko, who has been in form and holds an impressive clay court record is at 10/1. Then, there is a serious drop-off.

Fernando Verdasco is 33/1. Cilic, Soderling and Frenchman Gael Monfils are at 50/1. That pretty much highlights the imbalance on the men's tour. The best players win the big events. The top six players are all at 10/1 or less and then there is a big dip to the next tier. The slow clay favors those that can cover the court, stay on the court and deploy tactical strategy.
With the return of Clijsters and Henin, there is much more balance on the women's side. While Henin is the prohibitive favorite at 5/4, Serena Williams and Clijsters are at 6/1. Last year's upset winner, Svetlana Kuznetsova, is at 13/2 with hard-hitting Victoria Azarenka at 10/1. Wozniacki, the fourth ranked faltering Dane is at 13/1.
Somehow Dinara Safina is at 14/1 along with graceful Elena Dementieva. Venus Williams and the third Belgian star, Yanina Wickmayer, are at 20/1. Wickmayer just might be a good longshot play, but the champ looks to be coming from the elite list of favorites. Azarenka has had some success on clay but usually the slower surface hurts she and Wickmayer, but they are very young and in great form.

This year's French Open boasts a much improved field this time around. The fleet afoot will prevail. If Nadal is healthy, there is not a better retriever and impossible shot-maker in the game. Bon chance!
Tags:
No comments yet.
RSS feed for comments on this post.
Leave a comment
You must be logged in to post a comment.