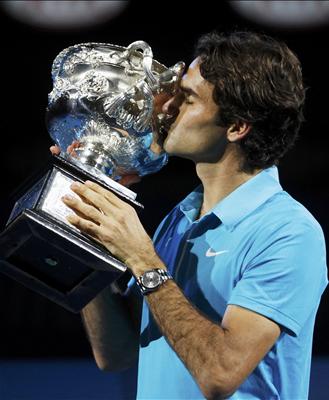 The 2010 Australian Open, much like the 2009 edition of the event, will be remembered in a very simple way: It witnessed the continued dominance of tennis's greatest modern-day champions.
The annual two-week tournament - often referred to as the "Happy Slam" - once again left underdogs and challengers in tears after 14 days of competition. That's because the elite players in this sport - and no one else - announced to the rest of the world that they're intent on staying at the top.
Saturday, Serena Williams defended her women's singles championship and reminded the WTA Tour that she's still on top of her game. One day later, on a sweat-filled Sunday night at Rod Laver Arena, Roger Federer followed Rafael Nadal's 2009 crown with his own latest and greatest achievement.

Federer might have lost to Nadal in last year's men's singles final at Melbourne Park, but that wrenching five-set loss - played at a very high level for the first four sets of a match Rafa won in five - illustrated how high the bar had been set by two decorated rivals. Federer and Nadal spent the 2009 Australian Open beating back all nascent challengers, and so it must be said that after Federer took home the 2010 men's singles trophy by beating Andy Murray in straight sets, the "old guard" of proven champions has maintained superiority over and against the rest of the field.
Federer proved to be the better player throughout Sunday's championship match against the fifth-seeded Murray. A dependable serve combined with airtight focus on every essential point enabled the world's No. 1 player to produce a 6-3, 6-4, 7-6 (11) triumph in 2 hours and 41 minutes. While denying Murray his first Major crown and forcing the United Kingdom to wait a few months for its long-sought breakthrough moment, Federer won his 16th Major championship to distance himself from Pete Sampras's former record of 14 Big Four scalps.
There was no mystery to the sweet supremacy of the Swiss: In a refrain that's become extremely familiar to every opponent not named Nadal, the most accomplished tennis player of the open era simply lifted his level at the business end of each and every set.

Even though Murray increased his stature over the past two week in Australia, and despite the fact that men's tennis has managed to produce many different men's singles finalists in the past year, it's still the big boys who - with only a few rare exceptions - add to their trophy case at the end of a premium. Serena Williams is to women's tennis as the Federer-Nadal axis is to the ATP Tour, for only these three players know how to close down opponents. Whenever intrigue entered the building on Sunday night, it was Federer who - like Serena in the women's final against Justine Henin the day before - found the form and fearlessness needed to tuck away another titanic triumph, adding to his growing legend in the process.
You could talk about the fact that Roger Federer outserved Murray in this match, 66 to 57 percent. You could talk about the fact that Murray thumped only two aces in the first two sets. You could analyze this match by rightly noting that Murray didn't do enough with the short balls Federer sent his way. All of those elements played a substantial role in deciding this duel, but the most salient piece of commentary that can be applied to this contest is that when the outcome of a set hung in the balance, it was Federer who brought a bolder brand of ball to the stadium.
In the first set, leading 4-3 and 30-all on Murray's serve, Federer played two virtually perfect points - finishing with an inside-out forehand winner - to break for 5-3. One authoritative hold later, he put the first set under his belt and didn't allow Murray to get a sniff at an early-stage comeback.

In set two, Federer broke early and was able to hold serve after grabbing a quick 2-1 lead. Instead of feeling the pressure late in the second set, the Swiss only improved his first serve when toeing the line at 4-3 and 5-4. Federer won eight of nine points in those two separate service games, using a mix of aces, service winners, and powerful first serves that set up easy put-away forehands.
And then came the third-set tiebreak that left a lasting imprint on everyone who witnessed it. It wasn't quite "Borg-McEnroe 1980" on the fabled lawns of Wimbledon, but a 24-point tussle that lasted over 18 minutes provided a powerful conclusion to the 2010 Australian Open.
Murray had his second set point of the third set at 6-5 in the breaker, but netted a down-the-line forehand approach to the deuce corner. On another set point at 7-6, Murray saw a makeable backhand volley drift wide of the sideline. On his fourth set point, at 9-8, Federer dictated the proceedings and drew a forced error on a defensive lob. On a fifth set point at 11-10, Murray couldn't do much about a strong first serve from Federer which hit the wide ad corner of the service box. Murray spent his time flinching on set points, while Federer - though hardly error free - was able to deliver the goods each time his Scottish opponent threatened to take this match to a fourth set.
Then, at 11-all, the 15-time Major champion decided to put his foot down in the pursuit of Sweet Sixteen.
Fed hit behind Murray to produce his third championship point, and when Murray netted a backhand at 11-12, it was all over. Just as Serena Williams persevered against Justine Henin and stayed on the mountaintop in the women's game, Mr. Federer reminded Andy Murray that the Roger-Rafa combo - which has now won 18 of the past 20 men's singles Majors - is still to be trusted in the biggest tournaments on the calendar.
The Australian Open has now concluded. Serena Williams and Roger Federer made sure the Happy Slam ended in sadness for everyone but themselves.
Tags:
No comments yet.
RSS feed for comments on this post.
Leave a comment
You must be logged in to post a comment.