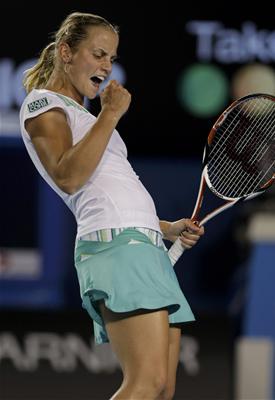 A once-stoic Jelena Dokic is showing an emotional side of her this week at the Australian Open 2009. And for good reason.
The fallen star has now, improbably, won two matches in Melbourne Park after upsetting Anna Chakvetadze in an emotional 6-4, 6-7, 6-3 on Wednesday night in an emotional thriller on Rod Laver Arena.
Dokic, who has won over the crowd having spent much of her young adult life in Australia, was once ranked fifth in the world. Now, however, she is down to No. 187 after years of family strife centering around her abusive father.
At long last, it finally seems to be coming back together for Dokic. Previously playing for Croatia, she is now back as an Aussie and it is paying off in the form of rabid fan support.
"I came back I think two or three years ago to Australia, and obviously the crowd, I didn't expect them to be on my side and to understand what happened seven years ago," Dokic said after the match.
"I think tonight was an amazing experience," she added. "It's been the best that I've ever had. I don't expect everybody to understand. But I'm trying my best. I'm fighting and playing for this country. I'm proud to play for this country again. So I think by the reaction of people tonight, things have swung my way, and I'm really happy about that."
Things are also going Ana Ivanovic's way so far in Melbourne. The Serb has struggled ever since winning her first Grand Slam title at the French Open last season and she is no longer the No. 1 woman in the world (compatriot Jelena Jankovic holds the top spot despite having never won a major championship).
Ivanovic, however, is cruising so far this week. She clobbered Italian Alberta Abrianti 6-3, 6-2 in the first match on Rod Laver Arena on Wednesday, showing the form that carried her to last year's Melbourne title match (Ivanovic lost to Maria Sharapova).
"It was amazing," Ivanovic said of her run last year. "I'm so happy to be back here. I had lots of great matches here last year."
She is hoping for more great matches this time around, and Ivanovic will next take on Alisa Kleybanova, while Dokic will do battle in what should be a thrilling encounter with up-and-coming Danish firecracker and No. 11 seed Carolina Wozniacki. The winners of those two encounters will face each other in the fourth round.
Tags:
No comments yet.
RSS feed for comments on this post.
Leave a comment
You must be logged in to post a comment.