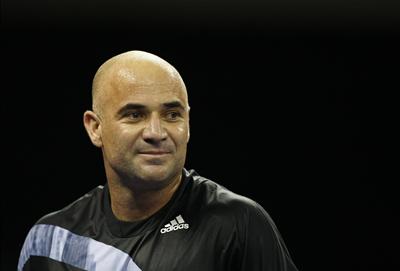 "Image is everything," uttered tennis legend Andre Agassi in his series of television adverts for Japanese photography giants Canon during the 1990's. The American former world number one, with his flowing long locks, was very much the pin-up of men's tennis during this golden decade of the sport. Girls loved him, mum's adored him, and tennis fans of either sex couldn't help admire, perhaps with a hint of male jealousy, his charismatic nature and unquestionable ability on the court. Somewhat of a marketing dream, Agassi is the third highest career earner in the history of the game. Image has indeed meant everything to the eight-time grand slam winner.
Aptly titled 'Open: An Autobiography', Agassi releases his personal memoirs next month, reflecting on his marvellous 20-year career while most importantly coming clean about the fact that hasn't always been entirely, well…clean. With sections of his autobiography having already leaked their way into the hands of the press, it has been revealed that Agassi, quite astonishingly, admits to having used recreational drugs in the late 90s during a lenient spell in his otherwise glittering career.
Even more astonishing is the fact that Agassi reveals he simply lied his way out of a failed drugs test for the use of crystal methamphetamine, which the The Association of Tennis Professionals (ATP) chose to sweep under the rug. The revelation has sent shockwaves throughout the tennis world, as one of its favourite sons throws his reputation on the line.
"I felt my story was one from which many people could learn," Agassi said in a promotional video for the book. It is a brave move from a man nicknamed 'The Punisher,' who ironically now appears to be punishing himself for his actions, of which he at least speaks of great regret.
The well-respected 39-year-old, who founded the 'Andre Agassi Charitable Foundation' for under-privileged children in his hometown of Nevada, will remain one of the best players ever to pick up a racket, yet his off-the-court image faces an uncertain future, with commercial sponsors now unlikely to be knocking on his door.
More worryingly for the game, however, is the shocking decision by the ATP to accept a straight-forward written plea from Agassi to drop his failed drug test case after he lied about the circumstances of how the crystal meth found its way into his system. Pinning the blame on his one-time assistant "slim", Agassi claimed to have accidentally taken a sip of the regular drug-user's beverage, which had been spiked with meth, a very powerful form of the stimulant speed.
Is that all it took to convince the ATP to overlook a failed drugs test in 1997? Or where they trying to protect one of the games most commercially sacred individuals for fear of the affect it could have on the sport's well-being? Either way, they accepted Agassi's simple excuse and kept the matter between themselves and the baseline veteran.
An awful lot has changed in sport over the past twelve years and I don't think for one second any tennis player in this day and age, no matter how big a reputation they hold, would be omitted from punishment if they were to lawfully fail a drugs test, whatever the substance.
Just ask Ivo Minar, the Czech player ranked 90th in the world who was banned for eight months just last week ago for testing positive for the banned stimulant methylhexanamine after a Davis Cup match in July this year.
I have no doubts that the leading authorities, both the ATP and the International Tennis Federation (ITF), wouldn't operate in such a manner today as they did with Agassi's lame letter of clear guilt twelve years ago.
But who is to say he didn't share a spliff back stage in the changing rooms with, say, 1997 Women's Wimbledon Champion Martina Hingis? Not likely of course, but she was then tennis' brightest young star and fans were equally shocked when she tested positive for cocaine at the same event ten years later, and I don't think anyone ever had Agassi down for a crystal meth user.
The point is, how many more of these cases have been swept under the carpet over the years by those in charge of the Agassi affair back then? And should we be grateful the likeable Agassi has levelled with us? Since it was not a performance-enhancing drug, I personally do not feel cheated by the man, just a little disappointed, but he is only human and he had his reasons, as his book reveals.
The real culprits in this scenario are those at the helm who clearly were not doing their job of protecting the sport from violation, and one of sports biggest governing bodies, the World Anti-Doping Agency (WADA), look set to investigate the matter, plus further suspect cases.
As for Agassi, he needn't hold his breath over a new lucrative contract offer from Canon, but his all important formally clean image is now up for debate.
Tags:
Philip Babb October 29, 2009 at 3:44 pm

Personally I never liked him, always thought he walked like a girl with a broken ass in between points.

Anthony Sacramone October 30, 2009 at 12:56 pm

I'm shocked but haven't lost any respect for him. We all do things for different reasons. still one of the best ever.
RSS feed for comments on this post.
Leave a comment
You must be logged in to post a comment.