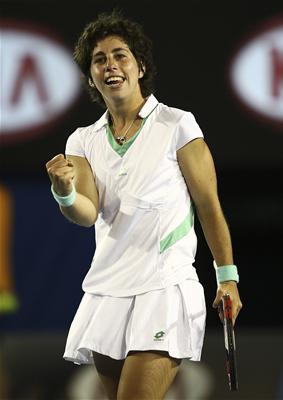 January 22, 2009 will be a date Carla Suarez Navarro will never forget. Most likely it is the day that will change her life forever. On the hot, humid and windy day, Carla stared adversity in the eye and never blinked. At the bleakest moment, the 5' 5" Spaniard raised her play to new levels and demonstrated sterling court skills to upset the heavily favored 22 million dollar veteran tennis player and fashion icon Venus Williams.
There was nothing easy about this win. There was nothing easy about the conditions and there was nothing easy about this opponent. Trailing 5-2 in the third set, Carla stopped making errors and began striking long, elegant, powerful ground strokes to register one of the biggest upsets in the history of women's tennis.
Suarez Navarro is just 20 years old. She does not have a powerful serve. She is short. She is stocky. The biggest problem she poses for her competitors is that she does not seem to realize her deficiencies. With a serve that barely breaks 80 mph, Carla will not intimidate the opposition. Her one handed backhand is regarded by most as a stroke of the past. On January 22, 2009, when she need that backhand the most, it was there, like it always has been and most likely like it always will be. Combining that backhand with beautifully angled cross court forehands, Carla awed the wildly enthusiastic Rod Laver Arena crowd and literally brought down the house.
While the win over Venus is unquestionably her most gratifying victory, Carla did surprise the tennis world with her performance at last year's French Open when she inexplicably reached the quarter finals. The tennis world blinked momentarily but then closed their eyes. Carla did not fare well at either Wimbledon or the U.S. Open and while sustaining a current world ranking of 44th, she did not garner much attention prior to Melbourne.
Since her arrival on the ITF circuit in 2003 as a 15 year old, Carla has only won $353,000. The stocky right-hander weighs 135 pounds and is described as an offensive baseliner. Against Williams, Carla approached the net only 10 times. She won six of those approaches. Meanwhile, Williams approached the net 21 times. She lost 9 of those points. Carla has the shots and is a good retriever. She consistently hit running winning shots against Venus.
The Barcelona native had her breakout year in 2008. At Roland Garros, she upset the 22nd seed, Amelie Mauresmo, then knocked off 26th seed Flayia Pennetta before falling to Jelena Jankovic in the quarters. Suarez Navarro then met some success on the ITF tour. Her world ranking jumped from 132 to 49th in June of 2008.
Suarez Navarro was coached by highly regarded Xavier Budo and Marc Casabo at the Pro-Ab Team Tennis Academy in Barcelona. Carla prefers clay but is well suited for the slower than usual surface in Melbourne. Carla has admitted that she will always have a fond spot in her heart for Roland Garros, but after January 22nd, she will feel the same about the Rod Laver Arena. The tennis world will be hearing, seeing and reading about the 20 year old for many years to come.
Tags:
No comments yet.
RSS feed for comments on this post.
Leave a comment
You must be logged in to post a comment.