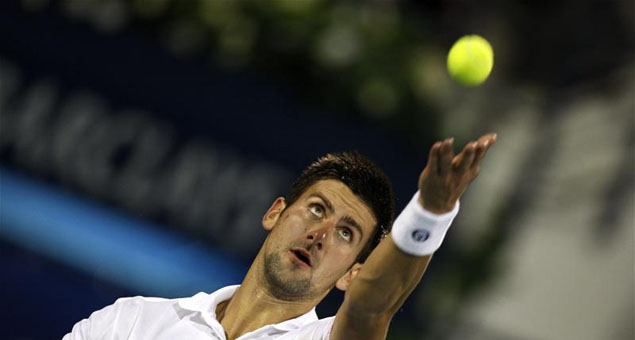 Last year's champion and this year's top seed Novak Djokovic fought off first round opponent Guillermo Garcia-Lopez 6-4, 6-4 in the opening match of the $1.6 million 2010 Barclays Dubai Tennis Championship on Monday.
The Spaniard offered stern resistance before succumbing to the hard-serving Serb and world number 2. Trailing 0-5 in the second set Guillermo-Lopez ran off four straight games before Djokovic held serve to close the contest.
Original top seed Roger Federer was unexpectedly forced to withdraw due to a lung infection. His spot atop the draw was taken by the ever dangerous but unseeded Tommy Robredo.
Federer's departure was probably good fortune for the tournament's three seed, Andy Murray. The two might have crossed paths in the quarters.
Surprisingly Murray, returning to play for the first time since his Australian final match loss to Federer, has never eclipsed the quarters in Dubai.
The Scotsman cruised to a 6-2, 6-3 first round victory over stubborn Igor Kunitsyn. In a tour oddity, the second game of the first set took more than 24 minutes and featured 14 deuce points. Murray finally converted on his ninth break point.
The first two games of the match took 38 minutes. Murray reported that his lack of practice showed. In his post match interview, the Scot mentioned soreness in his ankle and a noticeable shortness of breath.
Murray's preparation for the Australian Open was first-rate but the tour has been active as he has recovered from the Federer loss. An out-of-shape Murray will not get through in Dubai.
The first day's biggest upset came at the hands of Cypriot Marcos Baghdatis. The smooth playing Baghdatis has been in top form of late. He registered 14 aces in his one hour forty-three win (7-6 (3), 6-4) over 8th seeded Gilles Simon of France. The match was the first between the two veterans in three years.
Baghdatis claimed his fourth ATP tour championship last month in Sydney at the Medibank International. He now sports a 12-4 record in 2010. For Simon, who has been hobbled by a knee injury, Dubai is just his second tour appearance of the year.
In Dubai, day one was particularly kind to Austria's favorite tennis sons. World number 31, Jurgen Melzer, and qualifier Stefan Koubek both registered straight set wins to advance. Melzer took out Italy's Simone Bolellini (6-1, 7-5) while Koubek dispensed with Feliciano Lopez 7-6, 6- 4.
All seats for the Barclays Dubai Tennis Championship have been sold and attendance was strong on Monday. Mikkhail Youhzny, Nikolay Davydenko, Tommy Robredo and Jo Willfried Tsonga all swing into action today.
Tags:
No comments yet.
RSS feed for comments on this post.
Leave a comment
You must be logged in to post a comment.