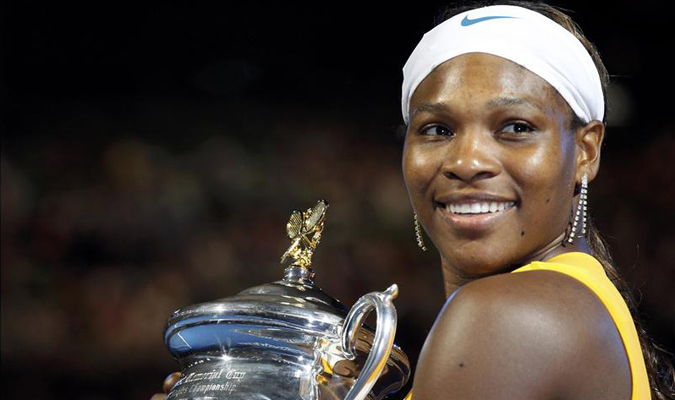 Justine Henin stood on Mount Olympus, playing tennis from the gods. Serena Williams realized, though, that even tennis legends are mortal. That's why one great champion turned back another in a deliciously dramatic Australian Open women's singles final.
Serena Jameka Williams and Justine Henin entered their ultimate Saturday showdown in Melbourne with 18 Major singles titles between them. Because the two iconic athletes were contesting the first Major final in 14 head-to-head meetings, Williams and Henin were assured of creating a 19th Big Four championship inside Rod Laver Arena. The only question was: Who would be able to rise above the pressure in this classic confrontation?
For a while, it appeared that Henin would do the deed, but in the end, it was the world's best female tennis player who prevailed on the basis of her patience.
Williams did lead this match by a 6-4, 3-2 score, and seemingly had her Belgian foe on the ropes midway through the second set. However, in keeping with the pattern of her career, Henin refused to wilt in the face of an opponent's resourceful and resolute performance. Just when she was teetering on the edge of a straight-set dismissal, the seven-time Major champion elevated her game.
Serving at 2-3, Henin played a pair of picture-perfect points at deuce to level the set at 3-all. Then, late in the seventh game of the set, Henin gained confidence after her American adversary missed a second serve by a considerable margin. Throughout this match, Henin made a conscious and intentional choice to attack Serena's second serve with punishing returns.
Most of the night, those high-risk returns zoomed beyond the baseline, but late in the second set, every shot off the Belgian's racquet found the mark. Playing unconscious tennis and standing on a mountaintop of magnificence, Henin won 15 straight points to not only take the second set, but gain a 1-0 lead in the third and make a dent in Serena's service game.
For the first time since the 2006 Wimbledon final involving Henin and France's Amelie Mauresmo, a women's singles final at a Major tournament had gone three sets. Henin owned all the momentum, and the capacity crowd inside Laver Arena wondered if the unseeded superstar – back from a 16-month hiatus from the WTA Tour – could continue to calibrate her high-risk groundstrokes.
She couldn't… but in order for that to happen, Serena Williams had to make Henin question herself.
Serving in the third set at 0-1, 15-40, Serena threw down an ace and then dominated the 30-40 point with a series of groundstrokes followed by a forehand volley winner. When she held for 1-all in the deciding stanza, Serena not only avoided trailing by a break; more importantly, she stopped Henin's hot streak and caused the underdog to feel pressure once again.
That's when the spell got broken.
After the two champions exchanged breaks of serve, it was Henin who flinched at 2-all, 30-15, in the third. Henin tossed in a double fault for 30-all and then watched Serena smack an intimidating return winner for 30-40. So intent on finishing points with authority, Henin overcooked an easy forehand on break point to give Serena a 3-2 lead. The Belgian bomber, once on Mount Olympus, had come down from her perch. Serena Willams had waited her out successfully, much as Roger Federer waited out Nikolay Davydenko in this tournament's men's quarterfinal match from Wednesday afternoon.
The rest was history. Serena won the final three games and captured a riveting 6-4, 3-6, 6-2 decision to capture her 12th Major singles title, tying her with Billie Jean King. Justine Henin helped to make this match memorable, but the only thing people will truly remember as this match fades into the history books is that Serena Williams won the 2010 Australian Open, reminding fans and pundits alike that she's the best tennis player of a young 21st century.
Tags:
No comments yet.
RSS feed for comments on this post.
Leave a comment
You must be logged in to post a comment.